UnNews
:
Michael Gambon reincarnated as Bonnie Wright's baby
Jump to navigation
Jump to search

This article was a victim of the 2023 SAG-AFTRA strike (July 14-November 9, 2023). Strike rules prevented current and future guild members from promoting struck content. The article has since been amended to reinstate what was previously prohibited.
Friday, October 6, 2023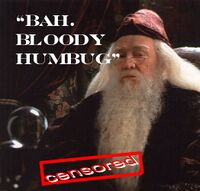 ctress Bonnie Wright, best known for her role as Ginny Weasley in a franchise I'm not sure I'm allowed to name yet due to SAG-AFTRA strike rules the Harry Potter film franchise, has announced the birth of her son, the reincarnated Michael Gambon, who took over for Richard Harris as Albus Dumbledore in the same franchise.
Wright shared the first image of her newborn on Instagram. Her caption reads "We're all healthy and happy. Andrew and I are so in love with our sun 🌞! Looks a bit familiar, don't he? We would like to thank the doctors, nurses and whole birth team for keeping Sir Michael Gambon alive. Birth is the wildest experience! Reincarnation is even trippier."
Richard Harris died after Harry Potter and the Chamber of Secrets, even though Dumbledore was going to -- SPOILER ALERT -- die four films later anyway. Sir Gambon took over until it was time to finish him off.
Gambon starred in several films during his career. Unfortunately I can't name them. SAG-AFTRA rules (which apply to future members, too) prohibit any promotion of struck work. The union is currently negotiating its contract, so I will hopefully be free to talk in the coming days. Now that the strike is over, I can finally tell you that his credits include Othello (1965), The Beast Must Die, Paris by Night, Missing Link, Bullet to Beijing, The Insider (1999), Sleepy Hollow, Gosford Park, Ali G in Da House, The Life Aquatic, and Paddington 2.
Reincarnation is a concept in Hinduism in which after one dies, they are reborn in another form. For example, your grandmother might be reborn as a cow, a horse, or somesuch. There was an old TV sitcom based on the concept, but I'm not sure I'm allowed to mention that, either.
Wright is hoping that Richard Harris will be reincarnated as her next baby. "I'm already practicing singing [Harris's Jimmy Webb-penned hit song] 'MacArthur Park.'"
Unfortunately, she got cut off mid-sentence because someone left the cake out in the rain.