UnNews:Biden announces recently deceased wrestler Kamala as running mate
Jump to navigation
Jump to search
Wednesday, August 12, 2020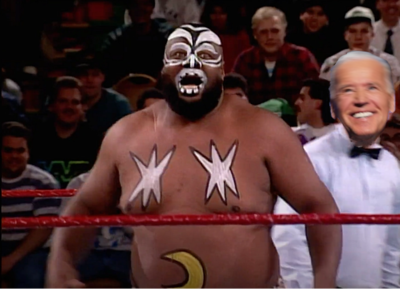 WASHINGTON -- After much speculation, presumptive Democratic presidential nominee Joe Biden has finally announced his much-anticipated running mate. Here is his full statement below.
"
My fellow Americans,

Look, I know you've been waiting for this a long time, and I've mulled it over for several months now, but I have made my decision. Joining my ticket, to be the 49th Vice President of the United States, is legendary WWF wrestler James "Kamala" Harris.

Kamala is tough, strong, and he's ready to lay it down on the mat and put a ring on it. On day one, we will pin down Donald Trump and hold him and his cronies accountable for their numerous crimes and misdeeds.

I first met Kamala when my son Beau attended Wrestlemania several years ago. Back when Vince McMahon's professional wrestling empire was known as the WWF. Andre was still alive. And Randy, Mean Gene, Mr. Perfect, Roddy Piper, The Ultimate Warrior. Hulk was at the top of his game. This was before The Undertaker. Kamala had a huge match against Andre. It was a big fucking deal. He was somehow able to topple Andre. I'll never forget the look on Vince's face. "Holy shit, how did he do that?!" "Magic," I said. "Who the hell are you?" he replied. I introduced myself. "Hi, I'm Senator Joe Biden. And I believe Kamala has a bright future ahead of him."

Turns out I was right, though he may not be as remembered as all stars such as Hulk, Andre, Ric Flair, Sgt. Slaughter, The Iron Sheik or Bret Hart, over the years I saw Kamala take down the WWF's mightiest gods.

When making my running mate selection, I asked myself, "Joe, who could I pick who could literally bodyslam Donald Trump?" Then I asked myself, "Who can I pick who's still alive?" Look, Hulk Hogan is 67 years old and retired. Ric Flair is 71 and could probably still do it. Bret? Nah. Undertaker could never pull it off. As for recent wrestlers, the only one who could really do it is The Rock, but we couldn't insure Mr. Johnson; too valuable to Hollywood. I knew that, despite his death just two days before I made this announcement, Kamala was the only choice.

Starting January 20, 2021, Kamala will be the funkiest Vice President since George Clinton. Wait, what? You mean that was a different George Clinton? Alexa, I changed my mind. Don't play "Knee Deep" or "Give Up the Funk."

"

The election is November 3, 2020.
Sources
[
edit
]