UnNews:Biden selects Strong Woman as running mate
Jump to navigation
Jump to search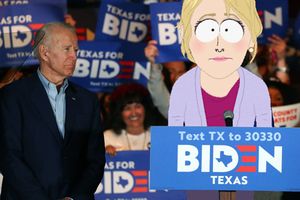 August 9, 2020

WASHINGTON, D.C. — UnNews has received EXCLUSIVE reports from 2020 Democratic presidential nominee Joe Biden's closest campaign associates that he has selected South Park, Colorado elementary school vice principal Strong Woman to join him on the Democratic ticket as he faces off against incumbent U.S. President Donald Trump in what is sure to be one of the most titillating and historic presidential elections in modern U.S. history. This selection comes after the nation had been sitting through months of suspense waiting to see which strong woman the former vice president would select. Biden has followed through on a pledge he made in March, where he stated that he would select a strong woman as his running mate, likely one who is athletic, has experience raising numerous P.C. babies, and has the qualifications necessary to effectively administrate a Colorado elementary school.
Our sources in the Biden campaign tell us that the former vice president and U.S. senator went through a long, challenging process to select the right strong woman to help him lead the nation. Biden had also been considering women such as California senator Kamala Harris, Minnesota senator Amy Klobuchar, and Florida congresswoman Val Demings. According to sources within the campaign, Biden was very conflicted when making the decision to select Strong Woman, given the pair's mutual sexual attraction. Biden had reportedly been worried that Strong Woman would feel discouraged because she might feel that Biden was giving her special treatment due to their secret sexual relationship. Strong Woman brushed this accusation off, saying to Biden that she was just as strong and capable as any woman to take the responsibilities necessary of the nation's vice president.
Strong Woman has had a large national presence due to her repeated second-place performances at various athletic events in South Park, Colorado, as well as the leadership she had shown as vice principal of South Park Elementary. This national spotlight she had accrued had placed her at the center of the conversation which speculated as to which strong woman Joe Biden would select, with many of her supporters praising her strongness and womanliness. Strong Woman was ultimately selected as Biden's running mate in spite of her many detractors, who would point to her inability to negotiate successfully with extremely muscular transgender female world leaders.
When asked for comment, Strong Woman told UnNews: "I'm looking forward to running a great campaign with Vice President Biden to finally defeat Donald Trump. Joe has the leadership experience necessary to bring our country into a new age of equal opportunity, and I'm more than honored to help make that happen." Joe Biden interjected, stating "That's right! This is one strong woman! She can overhead press 550 pounds! Don't mess with her or she'll turn ya' into a bellywobblin' ragamuffin!" Strong Woman replied, saying "Do you really need to do that? Do you think I can't do this myself or something?" To which Joe Biden replied "Oh, I'm sor- sorry. Go ahead. Sorry."
The Biden-Woman campaign is currently leading by 7 points nationally, primarily due to the economic fallout from the COVID-19 pandemic as well as Biden's "hiding in a cave" strategy. The Trump campaign could not be reached for comment. Continue to follow UnNews for further astute coverage of the 2020 presidential election.
Sources
South Park Wiki "Strong Woman" FANDOM, last edited January 18, 2020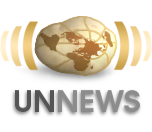 This article has been featured on the front page. — You can nominate your favourite articles at
Uncyclopedia:VFH
.
---
Template:FA/19 September 2020Template:FA/2020Template:FQ/19 September 2020Template:FQ/2020