UnNews:McMahon fires Trump, dies
Jump to navigation
Jump to search
25 June 2009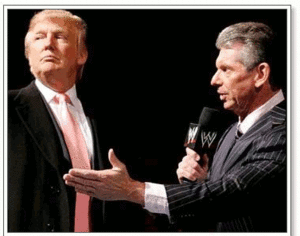 LOS ANGELES, California -- The wrestling world is mourning the tragic loss of WWE mogul and Johnny Carson sidekick Vince McMahon. At the end of his life Monday night, June 22, he was in a feud with Donald Trump over finances, home foreclosure, health problems, and the ownership of WWE's Monday Night Raw.
The death occurred during that night's edition of Raw, the first-ever commercial free show in its 17-year history. The show was a blockbuster success, with a 4.5 Nielsen rating, up from last week's "Three-For-A-Dollar" show, which did a 3.7 (and a 3.9 for the final 2 seconds). The first hour scored a 4.2 rating with 6.3 million viewers, while the second hour -- in which McMahon died on live TV -- jumped to a 4.8 rating with 7.3 million viewers.
According to Dick Clark, McMahon had "a multitude of health and financial problems" at the end of his illustrious life -- A life which included being a wrestling mogul, talk-show sidekick, talent-show host, and weird guy who comes to your door with a ridiculously oversized check.
During the show, McMahon and Trump were fighting over the onwership of Raw, which had just been transferred to The Apprentice host. Vince told The Donald that he was buying back the rights to the property, and fans would be given "double their money back!" He agreed to Vince's terms, prompting the wrestling mogul to say, "I've been waiting a long time to say this! Donald Trump, you're FIRED!" Little did anybody know that McMahon would also be "fired."
When McMahon went to his limo after the show, it exploded, without him surviving. Trump later quipped, "Who's fired now, McMahon?" Fans booed Trump, and threw their Kevin Federline CDs at him. The show continued nonetheless, albeit mounfully, when John Cena and Federline sang a heartfelt duet of McMahon's favorite song, "Crazy Love" by Van Morrison, from his album Moondance. Audiences weren't sure whether to applaud or boo, so they did both.
Morrison said Tuesday that he was "bloody appauled" by the musical performance. "In this day and age of celebrity quasi-'singers,' I would much rather of heard a rendition by Shaquille O'Neal, William Shatner, Bruce Willis, Russell Crowe, Pierce Brosnan, Leonard Nimoy, The Bacon Brothers, and David Hasselhoff, with Keanu Reeves on bass, than hear that fucking Feder-Cena dreck again. Good bloody 'ell!"
Vince McMahon was 86.
Sources
[
edit
]