Templating
Jump to navigation
Jump to search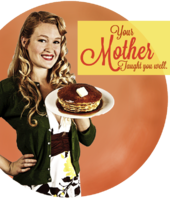 So, you want to know how to make templates like the hardcore editors on wiki sites, huh? Well I hope you brought your coding chops!
Frequently Asked Questions
Why Should I Care About Templating?
Templates make the standardization of tabular data and the inter-linking of wiki-based pages and websites both functional and easy to understand. When visually formatting information, templates can be used to annoy stupid readers with obnoxious borders, colors, images and ideas.
Do I Need to Know Anything Special in Order to Enroll?
It helps to have a very good understanding of HTML and CSS. Hopefully you have already been adopted by the formatting genie or one of her post-grads. If not, you should probably do that first. Here are the fundamental articles that all seasoned editors should be familiar with:
Here is some preliminary reading material:
How Much is Tuition?
Typically, the tuition can be paid for using your immortal soul. In the event that you have already sold your soul, you can either pay by cash, money order, or exchange of services. Please see your local financial counselor for details.
Will I Ever Get Paid to Make Templates?
God, no. What?
No, but there are 30 fabulous award templates and 6 honours that you can collect if you want to beat the game of Uncyclopedia and earn the Completionist Trophy for your userspace:
   5 Userboxen
+11 Sophia Awards
+ 8 Purple Nurple Awards
+ 6 Order of Uncyclopedia Achievement Honours
----------------------------------------------------------------------
I Was Just Wondering... So, When Do Classes Start?
Now. Whenever you are ready. Enroll by clicking on the link below.
Enroll in the Academy
Sign up by adding your info to the Class Roster. You really shouldn't sign up for this unless you've already mastered basic wiki editing. If you are not sure, ask to be adopted first.

When you are ready to submit a template into the mainspace, leave a note on the Template Request page.
There is also the nomination feature at the top of this page that says "This Template Sucks!" Make sure you include the 'Template:' prefix (or userpage if applicable) and we will check it out.
These templates need to be fixed. They suffer from horrible spacing, terrible illustration, bad programming syntax, and nonexistent typography. After you've finished googling those concepts, look at these awful things:
---
Holy Bible: Revised Neocon Edition Chatham
Jewish stuff

More Jewish stuff


See Also
Continue on the Amazing Journey to Templatetown...