Carry On Film
Jump to navigation
Jump to search
Straplines:

The Ins And Outs Of Making It Big!!
This Is Gonna Be Huge!!
The Carry On Team Crack Hollywood!

Screenplay
Dick Humper
Music By
Eric Shone
Starring
Special Guest Stars
Producers
Peter Rogers, Ars Bandeet
Director
Helmut Zucker
Length
That's Personal
Language
Filthy in parts
Preceded By
Carry On Penis
Followed By
Carry On Luggage
IMDb rating

This article may be Overly British
Americans may not understand humour, only humor. Canadians and Australians may not understand anything at all. Don't change a thing to remedy this.
---
"Grab the other end, love. Now let me slide it in. Cor! Ooh that's good! Just there. Oh! Blimey, that's it! Oh yes, it fits perfectly."
~ Sid, moving some furniture
"SILENCE!"
~ Kenneth, at anybody
Carry On Film is the 69th entry in the Carry On series of films. Released in 1970, this is the first Carry On film to spoof the making of a Carry On Film, and like every previous Carry On, it devotes a large portion of screen time to showing women with big assets undressing, a gaggle of sex-starved men, characters with double-entendre names, plus a bit of how's yer Father?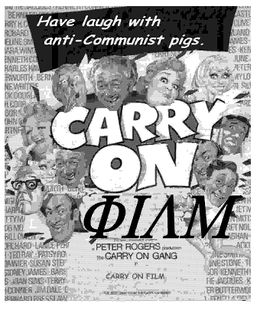 "Have your haemorrhoids cleared up?"
~ Betty Swollocks
"On the whole, yes."
~ Bishop Basher
It is common knowledge that nobody in the United States will ever watch a film that does not feature an American. So in order to attract a wider audience, Carry On Producer Peter Rogers (himself the owner of a double-entendre name), cast Rock Hudson in the role of dashing swashbuckling leading man Leslie 'Ding Dong' Phillips. Hudson arrived on set every morning in his enormous chopper and the actor did not even require a Carry On double-entendre name as he brought his own along with him.
According to film critic and Carry On historian Leonard Maltin, 50% of the film's budget was stumped up by 'flamboyant' Bollywood mogul Ars Bandeet. This was an attempt to introduce the Carry On films to the Indian sub-continent. At the time of the film's release, the British Government concocted a recruitment drive to attract more Asians to the UK to work as bus conductors for London Transport, and this film was seen as a valuable opportunity to publicise their efforts.
In 2004, Leslie Phillips admitted that, although he had only a small part, he knew one day he would make it big. This would be the film that would put him on the lips of every woman in Britain.
Bringing up the rear were the army of regular support, a veritable who's-who of British comedy: David Lodge, Dilys Laye, Valerie Shute, Peggy Mount, Anita Harris, Terence Longdon & Lance Percival.
"Stop beating about my bush."
~ Barbara Easyshag
The entire film takes place in the canteen at Pinewood Studios in London. Sid James, (Sid James) a wise-cracking, sly, lecherous cockney former toilet maker turned union leader organises a wet t-shirt contest to harden the resolve of the union members. Sid falls for the ample charms of the former 'Miss Bra & Panties 1959' Barbara Easyshag, (portrayed by Barbara Windsor), heir to the Easyshag Headrest fortune. Sid, eager to come into money, begins a flirtatious relationship in which Sid attempts to introduce Babs to Little Sidney. Sid suggests she takes him to her house. Babs explains that her bedroom is very drafty. "You need to get felt up in your loft." he advises her. "I don't mind where I get felt up!" she chuckles.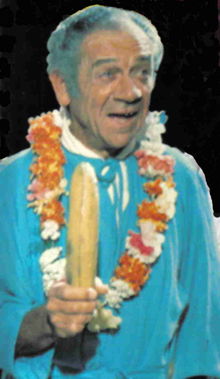 Kenneth Williams, in a role made famous by Kenneth Williams returns from his annual camping holiday, and complains to the Producer Peter Rogers (in a cameo by Producer Peter Rogers) that he has been earning the same wage (£8.50 and a jam doughnut) since the first Carry On film. Kenneth blows his top: "I need a rise and I can't take it anymore!" he bawls in a line from one of his diaries. He leads the cast out on a picket as they demand a better salary (an extra jam doughnut). "Bonus! Bonus!!" he screams, which, he later admits is actually his standard request each time he meets an attractive man.
Meanwhile, Hattie Jacques (in an acting tour-de-force by Carry On regular Hattie Jacques) is the matronly Canteen Manager whose Postman husband Francis (Frankie Howerd) has just been fired from his job after being caught having it off with his customer's front doors. "Seeing all them knockers can arouse a man!" he moans. At home, Hattie discovers that a vision of a nude woman, "Valerie", played by Valerie Leon keeps appearing in her deep shag rug. The woman can correctly predict the outcome of various sporting events. When Hattie displays her rug in the canteen, the naked vision of the women gives all the men red hot tips.
Kenneth hatches a plan which he feels certain he could pull off. He takes his case to the Studio Head, J. Arthur Wanque. Tracking him down at the barber shop where he is receiving a cut and blowjob, Kenneth demands immediate satisfaction, threatening to add the incident in his famous diary. Wanque, feeling himself in a tight hole, agrees to help. A military man, Wanque's cry of "All hands to the pump!" can often be heard wafting through the Pinewood corridors.
Following his third hospital trolley accident in as many films, Jim Dale (Jim Dale) relates to the cast a story involving a gang of flower-arranging intruders who trespassed in the garden of his uncle, a crusty old religious zealot, Bishop Bashing (played by Donald Pleasence) and placed a bunch of daffodils (pot, earth and all) up his back passage. Jim expresses his desire for revenge against the intruders' mastermind, the evil "Bernard Bresslaw", a practising Proctologist who habitually strokes a white pussy.
The naked woman in the rug predicts the winners of the Academy Awards (another sop to the yanks); Everyone involved in the film places the bets on Hollywood superstar Charlie Chaplin (played by Hollywood superstar Charlie Chaplin) to win Best Actor, after the rug names him a dead cert. With enough money they can afford their annual works' outing to Brighton(played by well-respected seaside town, Brighton). However, Chaplin doesn't even make the nominations, sending everyone into debt.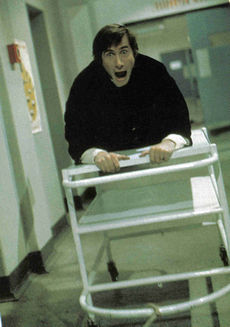 An uprising by the disgruntled thespians, led by Kenneth Williams and his fiancee Joan Sims (played by Martha Farquar, in a role originally created by Joan Sims), erupts into a mass custard-pie fight-cum-Roman Orgy which eventually results in the canteen being burnt to the ground, killing several of the strikers, a couple of extras, the film's Clapper-loader, and Key Grip. The strikers turn on Kenneth, who wrestle him for power. In the melee, Joan is floored by a striker's tackle. Wanque is ably assisted by his old unit, the 3rd T&A. The Sergeant takes Bernard Bresslaw from behind, while Kenneth is apprehended by the Privates. "I have never been violated in such a fashion!" gushes Kenneth, " ... Please do it again!" Wanque, armed with a duelling pistol, aims his weapon at Peter Rogers, and shoots his load into the Producer.
The relationship between Sid and Barbara goes sour when Sid makes one or two lewd remarks too many on their first date and ends up feeling the rough end of Babs' tongue. Babs was hoping to marry Sid whereas Sid was just hoping to take her up the aisle.
The film ends when Sid is charged with rape. He is later banged up for life in Wormwood Scrubs.
"What do you think of sex?"
~ Sid
"It's a pain in the arse."
~ Barbara
"That's 'cos you're doin' it all wrong."
~ Sid
According to film critic and Carry On historian Leonard Maltin, Carry On Film was a colossal flop at the box office and was even withdrawn prematurely from some cinemas halfway through its very first showing. Many critics and fans alike complained that the film contained too much "tits and arse", specifically, those belonging to Barbara Windsor, whose own breasts were assigned a Half-deflated balloon score of minus three in the October 1970 issue of Melons magazine.
Special praise was meted out by some critics who were impressed by Charles Hawtrey's performance as a disillusioned boxer fed-up with battering other men around the ring.
"I bet you say that to all the nymphomaniac, sex-crazed, muff-munchers."
The music from the final scene entitled, The Climax by composer Eric Shone, was available on 7-inch single.
Toy manufacturer Mattel produced a series of action figures based on the film. A "Jim Dale" on Hospital trolley can set a collector back £450. While a genuine 1971 "Sid James" in date-rape attire (with bloodied skirt accessory) in its original unopened packaging (ironically so) can fetch upto $2000 on Ebay!
In 2002 the computer game Carry On Loading was released for C64, ZX81. It was originally issued on a 3-inch floppy.
The best-selling book of Christmas 1970, was the Carry On Film Pop-up book. Readers could delight in the scenes from the film including a three dimensional rendering of the famous moment when Kenneth Williams has trousers pulled off. It was available in hardback.
There is a website devoted to the Carry On Films called 'Carry On Log On.org.asm'
Audio/visual: When Babs is undergoing a rogering, she says, "Sid, put it away!" but her lips do not move.
Continuity: For just a split second, one of the kilted soldiers can be seen wearing underpants.
Continuity: The shoddy editing of the original release in 1970 — particularly noticeable in the scene where Hattie Jacques's ample bosom suddenly disappears then reappears — has been significantly cleared up in the long-awaited triple-disc re-mastered Definitive box-set Ultimate Collector's Edition Blu-Ray HD-DVD Limited Edition re-release which was made available in 2007.
"When you're impotent, things ain't half hard!"
~ Fanny Fartz
Taking a leaf out of George Lucas' book, in 1998, Carry On Film was re-released in three cinemas as a "Special Edition". For the re-release, in addition to extensive clean-up and restoration work, producer Rogers also made several changes to the film. "At my age, it's awfully hard to keep it up ... the standard, I mean." Much like the Star Wars Special Editions, the changes to Carry On Film: The Coming Again Edition angered many die-hard Carry On fans as they argued that the changes affected plot or character development. The most important alteration is the editing during the famous rape scene. This change is often referred to by fans as "Sid shot first".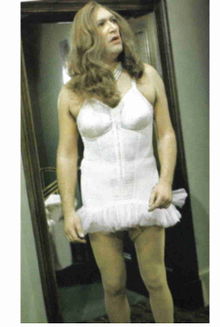 "Wow! I can't take all that!"
~ Hattie Jacques
The original script for Carry On Film raised problems with the film's legal advisor, who felt it was too similar to Blake Edwards' The Pink Panther In The Canteen which featured heavily the Pinewood Studios canteen in its story. In the end, Edwards abandoned the entire project when he ran out of outtakes of Peter Sellers who had died several years previously.
Although the film was set in windswept Pinewood, to save money, shooting was actually done in Tenerife.
Background music for the film was provided by "Charles Hawtrey and the Deaf-aids", the band Charles got together at the John Lennon's urging.
The Barbara Windsor character Miss Easyshag was actually named after her real name. When the young Barbara Easyshag made her first Carry On film, the producers changed her name to Windsor, partly to honour the new Queen.
Carry On scriptwriter, Dick Humper, prolific writer of Carry On Up the Rectum, Carry On Luggage, and Carry On Shafting (the now-classic lift builders parody) was famous for tossing off his scripts at an alarming rate. He left the series after this film to join the hugely successful Confessions ... film series. Sadly, he died in 1979 when his house burned down after scripting the autobiographical Confessions Of A Paedophile.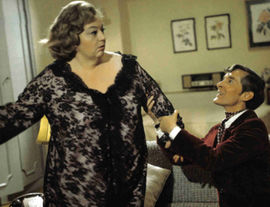 ---
Quasi-Featured Article (5 January 2008)