A View to a Kill
Jump to navigation
Jump to search
A View to a Kill is the final James Bond move to feature Roger Moore. It was directed by Moore himself, and starred Christopher Walken as a innocent man who falls victim to the scheme of Bond.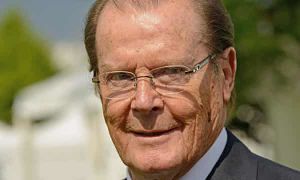 Production
[
edit
]
The idea for A View to a Kill came from a short story of the same name by Ian Fleming.
After Jimmy Page left the scene, Broccoli was desperate to find a new Bond actor and director. However, Moore managed to persuade Broccoli that he could do both roles.
The film itself takes large inspiration from the film Mad Max. Though it may seem that locations like Italy and California were used, the entire film takes place in a CGI studio because Moore was too old to go places (He was 57 dammit). Moore notably got overly drunk during the filming, however the scenes made while he was intoxicated were left in as Broccoli found them very interesting.
Roger Moore as James Bond: The legendary 007 who has lost all love of country and now only does what M tells him to do.
Christopher Walken as Max Zorin: A happy man turned villain after 007 casually ruins his life.
Grace Jones as May 'Day' Zorin: Max's wife who acts all badass until she finds herself sleeping with a man twice her age.
Tanya Roberts as the generic Bond girl who suddenly appears late in the film as though she has been there the whole time.
Robert Brown as M: Bond's boss who is desperately trying to get his horse to win a race against Zorin's.
Chris Evans as Sax Zorin: a stupid baby with a stupid name.
John Hollis as Blofeld.
In Italy, James Bond is engaged in a gunfight with Blofeld atop the Eiffel Tower. After Blofeld's gun is shot out of his hand, he flees using a parachute. Bond shoots the parachute multiple times, causing Blofeld to fall to his death. The camera zooms in on his corpse, and the theme song begins to play.
Max Zorin and May 'Day' Zorin are a happily married mixed race couple. They have a child named Sax Zorin. Max Zorin is the owner of a horse breeding company, with his own 'miracle horse', being a consistent race winner. They are living a happy life until good old Bond comes along and ruins it.
After M's horse lost to Zorin's for the third time in a row, he tells Bond to go and investigate Zorin on the belief that he is cheating. On the way there, Bond stops at a bar and orders countless martinis until he is incredibly drunk. He then goes to Max's mansion under the influence. He kills Max's son, Sax Zorin, with the belief that he is the ghost of Blofeld. He forces May 'Day' Zorin to drink martinis until she can no longer stand, and then seduces her in bed. Lastly, he injects Zorin's horse with a massive amount of heroin, causing it to die slowly.
Returning to M's office, M thanks Bond for his service to the country. Meanwhile, Max Zorin is going mad over what happened and swears revenge. He along with his wife plan to blow up Silicon Valley along with the microchips, so copies of GoldenEye 007 can't be released. M takes notes of this and tells Bond to thwart Zorin's scheme.
Once Bond makes it to Silicon Valley he finds Zorin' workers preparing large explosives. He encourages them to stop, but Zorin comes along and shoots them all. Zorin then prepares to blow up the valley, watching from a distance in his blimp. Bond gets into a struggle with May and is defeated, but straps a time bomb to her back. Max is forced to watch May try to get the bomb off, but ultimately explode. Max screams in agony, as everyone who he loves has died. He then drives off towards the Golden Gate Bridge to make his escape, and Bond follows.
Zorin's blimp is caught between the wires of the Golden Gate Bridge, which allows Bond to climb up onto the Blimp. Bond shoots the remaining workers and corners Zorin. Exhausted, Zorin tragically commits suicide by jumping of the bridge and into the ocean as Bond quips 'Take that you dirty bastard'.
Reception
[
edit
]
Critical Reception
[
edit
]
The film got incredibly good reviews from critics and fans alike. Both Rotten Tomatoes and Metacritic gave the film a score of 100%. Fans were very happy with the darker tone of the film, and hoped that it would be a consistent theme of later Bond films. However Roger Moore retired after the film, and Timothy Dalton took the role, making two lighthearted and goofy films.
Many Bond fans look past Moore's age in this film and consider it one of the best. In 2016, it was listed on the Top 100 Action Films of all time. In 2019, Pierce Brosnan and Daniel Craig rated it as their favorite Bond film. In a 2020 interview with Daniel Craig on his upcoming movie, he said that it would take large amounts of inspiration from A View to a Kill, including having a mixed race couple.
See Also
[
edit
]