User talk:JPLSilva
Jump to navigation
Jump to search
JP
L
Sil
va
UnMeta - UnCommons - UnData - Babel
Español - Galego - Mirandés - Português
Write your message at the end of the page and do not forget to sign using 4 tildes.
Welcome to Uncyclopedia.
[
edit
]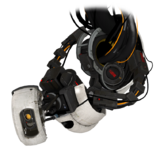 Hello JPLSilva, and thanks for joining Uncyclopedia. If you are a non-employee who has discovered this facility amid the ruins of civilization, welcome! And remember: Humor is the future, and the future starts with you.
Before editing further, please look over our Beginner's Guide. If you want to find out more about Uncyclopedia or need help with something, check out the following pages:
If you need more help, drop me a line on my talk page. When writing messages, please sign your name with four tildes (~~~~). Our robots will automatically produce your name and the date.
Good work getting this far, future-starter! That said, if you are simple-minded, old, or irradiated in such a way that the future should not start with you, please return to your primitive tribe and send back someone better-qualified for comedy. Good luck!
→

L A B O R A T O R I E S 20:58 12 May 2019
Hi, do you know the best way to ping people? I've been using this: {{Ping|name}}, but I just noticed that when other people do it for me, I don't get a notification. MrX blow me 16:31, 23 July 2020 (UTC)
Template help again please
[
edit
]
Hi, can you please help me with some template issues I'm having at Coca cola? It's similar to the issue I was having with Colin Kaepernick, thanks again, btw. MrX blow me 18:26, 18 September 2020 (UTC)
Also, can you help with Interstate 278, on my article? Gale5050 Complain about me! 19:02, 18 September 2020 (UTC)
Removed speciesbox template
[
edit
]
Just to let you know, I've temporarily removed the speciesbox template on the Coca Cola page. There were many red links, and the formatting was inconsistent. Once you figure out how to solve these problems, go ahead and add the template back in.~ HipponiasCUN - Talk - Contribs - Articles