Uncyclopedia:Annual BBQ
Jump to navigation
Jump to search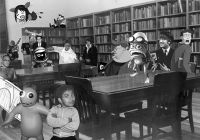 Welcome to the 3rd Annual Uncyclopedia BBQ
[
edit
]
This year's Meat & Greet is looking to be the best yet. We have more than fifty Uncyclopedia Admins and contributers from around the world registered to attend our Third Annual BBQ in sunny Seattle, Washington, USA.
Location
[
edit
]
This year's location is the lavish Alexis Hotel on First Ave in downtown Seattle, Washington. The location is quite accessable, as it's on one of the eight lines serviced by the Seattle Monorail Project (SMP). The SMP's "Green Line", which services downtown Seattle includes complimentary wine and cheese tasting on your way to your destination. Make sure to take advantage of this amazing transportation system, as profits from it benefit Seattle Public Schools.

The Alexis Hotel (and strip club) is a family-friendly getaway tucked away in an idyllic Central Seattle neighborhood. Featuring over 500 acres of pools, golf courses, lakes and hiking trails, the Alexis Hotel makes a perfect backdrop for any large corporate gathering.

The Uncyclopedia Corporation has reserved the Capanass Conference center, on the third floor, overlooking the idylic Avalon Park and Seattle's Premire nude beach. The vented Capanass Conference center is idealy suited for indoor barbequing, tennis, and skeet shooting. In addition, it contains twenty-seven top-of-the-line Dell Turbos, featuring Intel 8088 processors, and connected in an ultra-high-speed 10-base-T network.
A list of individuals providing food:
Elvis: Fried Peanut Butter and Banana Sandwichs
Rcmurphy: RC-Cola
Famine: Nothing
Savethemooses: Moose Stroganoff
Dave: McDonald's Catering Service
Nytrospawn: Caviar
PantsMacKenzie: Scottish Smoked Salmon
Chronarion: Angel-food Cake
stillwaters: Perch Fillets
Carlb: Robot Servers
Citranella: Bug Repellant
Flammable: Sterno with alcohol reduction in motor oil glaze, followed by Gasoline flambe (the cinders are garnish, moron!).
47Monkey: Soylent Green. And one of those hampers with exotic jams. Do you like jam?
Marcos Malo: Ice cream in a variety of flavors
Codeine: A range of *ahem* "Dietary Supplements"
Splaka: BBQ fuel (printouts of QVFD'd pages)
UltraScreech: Mysterious flaming bag thrown through the window
Flutter: Admin pills 4 teh admins
Tooltroll: Green brownies. . . be careful of interactions with Codeine's dietary supplements.
Nezlr: Borscht (Fresh from Chernobyl!)
Uncyclopedian: Potatoes.
Scheduled Events
[
edit
]
Spocktober 14

9am - 12pm: Arrival and check-in. Get settled in rooms, get nametags, etc.
12pm - 1pm: Welcome Ceremony, Capanass Conference room.
1pm - 2pm: Poolside BBQ, appertifs, golf fivesome sign-ups
2pm - 3pm: Hotel Bar runs dry despite informing the organisers "Don't worry, we've done this before, and you couldn't possibly drink that much." Hotel desperately starts phoning suppliers/other hotels for replacement stocks.
2pm - 6pm: Fun in the Sun. Informal afternoon.
6pm - 8pm: Formal Dinner, in the Library. Black-tie only. Candlestick optional.
8pm - 12am: Uncyclopedia Ball, Carlb decoration after he passes out from drinking too much wine.
7am: Admins are surprized to find that breakfast is being served. Switch from Don Perignon to fruit cocktails because they are more "breakfasty". Debate the qualities of the word "breakfasty".
Spocktober 15

8am - 10am: Hangover curing, Barton Dining hall.
10am - 11am: Hotel tries despreately to restock their Lemonade and Orange Juice supplies. Orders additional bedding, due to massive soiling.
10am - 12pm: Fun in the sun. Alternatively, huddling in room, sipping water, avoiding bright lights.
12pm - 1pm: Buffet style lunch. (Margaritas)
1pm - 6pm: Un-conference. Voting for board members; funding committee wails, gnashes teeth.
6pm - 12am: Post-conference drinking binge, masked as friendly chit-chat until people get drunk.
Spocktober 16

8am: Surprize fire alarm. Moments of extreme awkwardness as semi-naked people emerge from rooms they shouldn't be in. Moments of extreme confusion as to how they got there.
8:30am: Fire in Rcmurphy's room put out. Everyone decides to go to breakfast since they are up. Most remember to put on appropriate clothing.
9am - 10am: Breakfast in Barton Dining hall. Remaining dry cereal and oatmeal is washed down with restocked alcohol.
10am - 12pm: Capture the flag - 8th floor vs 12th floor outside near farm. Suspicious squealing heard as the 8th floor wins.
12pm - 1pm: Pig roast.
1pm - 5pm: Lan games.
6pm: Farewell dinner, Uncyclopedian of the Year Award, DUIs.