UnNews
:
UnNews remembers Shaft, Bull and Chandler
Jump to navigation
Jump to search
Monday, November 20, 2023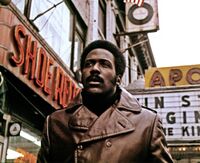 n the final weeks of the SAG-AFTRA strike that barred actors (and future or potential SAG members such as myself) from promoting or even so much as discussing struck projects (i.e. pretty much any dramatic creative work that wasn't an A24 film)... we lost a few SAG actors famous for at least one particular role.
First we start with one bad mother-- Shut your mouth! I'm talking about Shaft. Can you dig it? Richard Roundtree died Tuesday, October 24, from pancreatic cancer, the same thing that killed another god among men... Alex Trebek and his mustache. Roundtree was 81. The macho man with a trenchcoat and swagger (and an iconic and Oscar-winning Isaac Hayes theme song), the man who oozed masculinity and manliness... was diagnosed with breast cancer in 1993 and underwent a double mastectomy. Remember, all you manly men out there, it can happen to you too. It can even happen to U2.
Roundtree also starred in Shaft's Big Score! and Shaft in Africa and a short-lived TV series in the 70s, and two Samuel L. Jackson revivals in 2000 and 2019. Jackson showered Roundtree with praise on Instagram. "Richard Roundtree, The Prototype, The Best To Ever Do It!! SHAFT, as we know it is & will always be His Creation!! His passing leaves a deep hole not only in my heart, but I'm sure a lotta y'all's, too."
In addition to Shaft, Roundtree also had roles on soap opera As the World Turns (1956), Ava DuVernay's Cherish (2022), George of the Jungle (1997), Laurence Olivier's Inchin (1981), the miniseries Roots (1977), and City Heat (1984) starring another manly man... Clint Eastwood.
---
Moving on from detectives to bailiffs... Friday, October 27 saw the death of Richard Moll, best remembered as Bull from the original run of NBC's Night Court (1984-1992). Moll had shaved his head for the 1983 sci-fi B movie Metalstorm: The Destruction of Jared-Syn when he auditioned for Bull. Reinhold Weege liked the look and told him to keep it. "I'll shave my armpits," he said.
Other credits -- with varying degrees of head and facial hair -- included House (1985), Laverne & Shirley, The Flintstones (1994), Jingle All the Way (1996), 100 Deeds for Eddie McDowd]] (1999-2002), Batman: The Animated Series (1992-1998), Freakazoid! (1995-1997), Casper Meets Wendy (1998), Slay Belles, Sorority Party Massacre, and Ghost Shark. (Funny, I thought he was in Santa Jaws. Wrong Syfy shark B movie.)
Moll, one of the few surviving classic cast members, never appeared on this year's Night Court revival with John Larroquette. Instead that honor went to fellow bailiff Marsha Warfield in a guest appearance. Moll would never have wanted to do it anyway. "It's the people I can't stand." Plus, he was already retired.
---
And finally, the Grim Reaper was might busy that week. One day after Bull, we lost Chandler. Matthew Perry, star of NBC's long-running sitcom about six white people living together, Friends (1994-2004), was found dead after having apparently drowned. He had been struggling with substance abuse for most of his life and career and appeared disheveled at the HBO Max Friends reunion in 2021. He was 54.
Now here, I have to be honest. I've never really actively watched Friends. I've never really cared. I have the whole show on the DVDs that my grandmother left behind when she died. I initially didn't take them, because I didn't care. I'm not opposed to watching it, I just never really have. Just like I didn't dig deep into Seinfeld and watch it from the beginning until 2021... and I'm still on the third season. The last I watched was when Elaine pranked Jerry with a sexy voice recording at one of his stand-up gigs. Sure I had seen the odd syndicated rerun on Fox or wherever; that's how I started watching Frasier.
Maybe one of these days I'll bother with Friends. But only time will tell.
Monday, November 27, 2023

I forgot to mention that Matthew Perry played Oscar Madison on TV's 2015 Odd Couple reboot. Ironically, more clean-freak Felixes have died overall than lovable-slob Oscars.
Nellie Andreeva "Richard Roundtree Dies: 'Shaft' Star Was 81" Deadline,

October 24, 2023

Mike Barnes "Richard Moll, Bull the Bailiff on 'Night Court,' Dies at 80" The Hollywood Reporter,

October 27, 2023

Andrew Blankstein, Diana Dasrath, Chloe Melas and Dennis Romero "Matthew Perry, 'Friends' actor, dies of apparent drowning at 54" NBC News,

October 28, 2023