UnNews:Hot new Steven Hawking Pro Wheelchair II released for Dreamcast
Jump to navigation
Jump to search
| | |
| --- | --- |
| | This article is part of UnNews, your source for up-to-the-picosecond misinformation. |
25 January 2010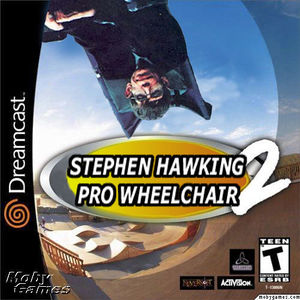 PLYMOUTH, Devon -- Hot on the heels of his accusation as a cat-murdering hit-and-run driver, a second release of the extreme wheelchair simulation game, Steven Hawking Pro Wheelchair II is being officially released for Dreamcast today by Bat Fuck Games (BFG).
The developers have endowed the first person action-er with Stephen Hawking's soulless, robotic voice, 83 millions colors, a choice of models of extreme wheelchair, and hundreds of levels and courses. Players must negotiate increasingly difficult race courses, in universes of increasing dimensionality, until reaching the final 11 Black Hole levels.
Simulated quantum computing provides near-perfect randomness and an element of chaos, which Steve Retch of BFG says, "Gives you a huge rush, like, knowing that the rules of quantum mechanics are at the heart of the logic engine, well... it's flabbergasting."
To win the game, one must play the final "kitten-crushing" level to the end, whereupon the avatar declares, "Everything I've worked to prove true is false! Ha!" The game comes with 11 dimensional joystick and glasses, for realistic play. It's expected to retail for $119.00 in the United States.
John Modus, who identified the alleged perpetrator of the recent murder of feline Casper as none other than world-famous theoretical physicist Stephen Hawking, is said to be capitalizing on his new-found fame.
"I've got a deal to autograph game covers for two Euros a pop... I'll be bleeding rich, I tell ya," said the part-time Quill Puller and full-time Exsanguination Enthusiast.