UnNews:Douglas - eating Zeta-Jones' pussy gave me cancer
Jump to navigation
Jump to search
3 June 2013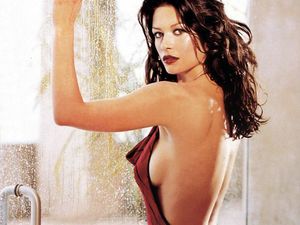 Just weeks after the showbiz world reeled at the news of Angelina Jolie's mastectomy and Jennifer Aniston's subsequent tit-based invitation to Brad Pitt, Michael Douglas has revealed that his drawn out battle with throat cancer was caused by eating out the lovely Catherine Zeta-Jones' pussy.
Hollywood had again been cast into darkness by the shadow of cancer, and Douglas pulled no punches when pointing the finger, which is ironically now the only part of his anatomy that he uses during foreplay.
"Some men get cancer from eating bad food, some get it from smoking," Douglas said. "But in my case, it was all Catherine's fault. I have lost count how many times I ate that girl out, but now I realize that I was dipping my face in a shaved bowl full of HPV." [1]
Sources close to the couple claimed that the Welsh stunner was particularly fond of receiving cunnilingus while listening to her own rendition of All That Jazz from the 2002 hit Chicago. Fans of the movie will already know that at many points during the song, before the titular words are sung, two notes sound out, in which Zeta-Jones was said to insist on thrusting her pelvis.
Carcinogenic
Medical experts' answers on the clinical validity of Douglas' claims have been disappointingly long and wooly-mouthed,[2] but UnNews medical expert Joanna Corey, who has a PhD in sociology, said that these gyrations were "almost certainly carcinogenic".
"We have to be careful attributing blame, however," added Dr Corey. "The most common cause of throat cancer is related to tobacco use, so I think it's important to do a follow up interview with Mr Douglas, to establish whether he was in the habit of inserting cigars up Ms Zeta-Jones' virus-ridden vagina, and then either licking them clean and/or smoking them.
"The resulting cocktail would have been lethal," she added, rubbing her hands and glancing out of the window, a somewhat disingenuous look on her face.
Catherine's Corner
Meanwhile Zeta-Jones herself has not commented on the story, but friends have suggested that the former Zorro star is less than delighted at the negative depiction of her pussy. One told us, "It´s hard enough for an actress over 35 to get parts in Hollywood movies - and that's when people have heard pleasant things about your vagina. Hollywood already treats older performers like their pussies have cancer, and it doesn't help if your partner is singing from the same hymn sheet.
"Michael needs to take a long hard look at himself about this. He is 52 years her senior. I have no idea how many times she has gone down on him but if it's any number above zero, I think the woman deserves a medal, not a health warning."
Might-be-safer-to-just-rub-her-feet-notes
[
edit
]
↑

The deepening of the cleft in Douglas' chin in the last 10 years is thought to be the result of prolonged contact with Zeta-Jones' clitoris.

↑

Wooly Mouth is an unrelated condition also caused by cunnilingus.
Sources
[
edit
]