UnNews:BITCH Jennifer Aniston flaunts lovely breasts
Jump to navigation
Jump to search
15 May 2013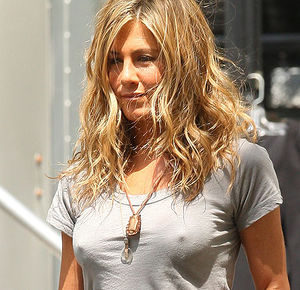 Former Friends star - and ex-wife of Brad Pitt - Jennifer Aniston confirmed herself as a massive bitch today by flaunting her gorgeous natural boobs just 24 hours after Angelina Jolie revealed she had had a double mastectomy.
Paparazzi in LA were given an 'anonymous tip' that Aniston would be available for photographs outside a Beverly Hills organic supermarket - and the 44-year-old was braless as a nun.
A friend of the star told us, "Ever since the news broke, she has gone into tit-overdrive. She ripped her bra off and said she wouldn't be needing it for the foreseeable future, and she immediately called Playboy to see how much they would pay her for a topless shoot."
Pitt left Aniston for Jolie in 2005 and the actress was said to be desperately upset. Since then she has maintained what was thought to be a dignified silence on the matter, but it now appears she was simply waiting for Jolie to show some sign of weakness.
Her friend continued, "At first when she read the story, she was spitting blood, calling her 'that bitch' and 'Wonder Witch' but then I think it dawned on her that she could turn the whole thing to her advantage, and she started cupping her breasts and cackling."
"Jennifer has always had very sensitive nipples - they are a central part to her orgasm process - and Brad was said to be happy to oblige her, sucking and lapping at them like a playful tiger cub. So she's convinced that he's a breast man, and that sooner or later, he will turn his back on Angelina's front, and come back to Mama."
See Also
[
edit
]