UnNews:Bob Saget writes ultimate dirty joke, immediately dies from shock
Jump to navigation
Jump to search

NOT SAFE FOR WORK!! The article you are looking at may not be work-safe!
...Although, since you're already here it's kind of too late for this warning to actually be useful.
If a boss or coworker sees this article, claim that it was spam and blame the IT guys. Otherwise, continue to read it until your lewd urges are satisfied.
---

Tuesday, January 25, 2022

ORLANDO, Florida -- Comedian Bob Saget -- best known for Full House; Fuller House; Fullest House; Seriously, Everybody Get the Hell Out My House; America's Funniest Home Videos; America's Stupidest, Brain-Cell-Killing Videos, But We Liked Them Anyway; Who Recorded This Shit??!!! and How I Met Your Mother, Sort Of, Except I Didn't -- died January 9, 2022, immediately after telling what Guinness World Records has declared the dirtiest joke in the history of the human race.
"Neither the Greeks nor Shakespeare himself could have concocted a joke this sinister."
Officials at the United States government have told UnNews that we are not allowed to reprint the joke, lest someone else dies, but why the hell should I listen to the government? Bastards are making us wear diapers on our faces and shoot ourselves up with Bill Gates's microchips. Jewish Space Lasers TM!
"
A man walks into a talent agent's office, Bruce Smitty, and says to him, "Mr. Smitty, my family and I have been working on this musical comedy act that you're going to love."

Smitty, chomping on his cigar, replies, "Great, let's hear it."

The man sits down at a nearby piano, clearly in pain, uncomfortable and shifting.

Smitty notices and asks, "The hell's the matter with you?"

The man replies, "Oh, nothing. It's just... I had a dick zit a few days ago. I put some zit cream on it, it's been clearing up, but now I have rope burn from my underwear rubbing against my balls."

He then stands up, spreads his legs out, limps, and adjusts his pants. He pulls the waistline and starts rubbing his balls.

Smitty tells him, "My mother was one of the greatest piano stars. I picked a few things up. I can take over if you need me to."

"Sure."

"You really should see a doctor."

"Mr. Smitty, the last time any of us went to the doctor, my son's face was his ass."

Smitty takes over the piano. "Want me to play anything special?"

"No, just a Vaudeville in C, 130 beats per minute."

Smitty proceeds to play a Vaudeville number.

The man's wife, and college-aged daughter and ass-faced son enter the room, limping with spread-out legs similar to their patriarch.

Smitty stops playing. "What the hell is going on here? Why are they walking like that? Is this part of the act?"

"My son has dick zits, too."

The son screams, "My dick is on fire!"

"Why are your wife and daughter walking like that? Surely they don't have... those."

"They're still sore from the hot sex they had last night."

The daughter replies, "I went on a Tinder date."

Mr. Smitty replies, "Thank you for sharing that with me. May we continue?"

"Certainly."

The family limps and groans its way through the musical number. The gentlemen rub their balls to relieve the pain.

Fluffy the asshole cat
He's always on my desk
He steals my chair, he shits on the floor
Fuck, my penis hurts!

If you're not careful, he will bite
He's got a vicious appetite
We fill his dish up to the top
And he's this close to getting bopped

Fluffy the asshole cat
Our cat is quite a jerk
And though we want to kick his ass
We somehow make it work

The song ends. Complete silence. Suddenly, the daughter farts.

"Dad, you were right about Chipotle."

Smitty is clearly disgusted. "Good Lord! I haven't smelled anything like that since Axe Body Spray!"

The father replies, "My dick hasn't burned like this since I sprayed Axe on it once. Never again."

Smitty has had enough, "You're not a musical comedy act! You're an insane asylum! What do you call this crap?"

"We call it The Aristocrats."

"Hmm, I like that name. Sign here."

"
Halfway through the word "Here," Saget clutched his chest and dropped dead. He was 65. The joke was met with a standing ovation. Everyone was already standing up anyway, because they all had dick zits or were sore from hot sex.
"What a way to go out," an audience member told UnNews the following Monday. "That was the moment that God said, 'Fuck it! I gotta get comedy lessons from this guy."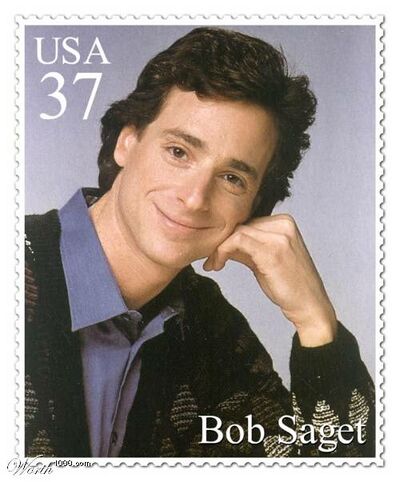 Bob Saget
1956 - 2022