Full House
Jump to navigation
Jump to search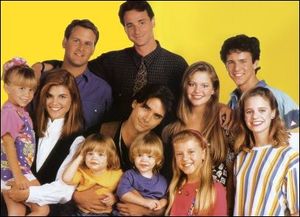 Full House is an '80s–'90s American family sitcom that ran on ABC. Set in San Francisco, the show stars three unmarried men who live in a house with three little girls, and transports us back to the good ol' predictability and cheesiness of the '60s–'70s, when all we had to worry about was the milkman, the paperboy, and evening TV. The show helped launch the acting career of many, including Bob Saget, Dave Coulier, and the Olsen Twins.
Full House is renown for being one of the most banal G-rated kitsch shows of all-time, but in a good way. In this crazy world we live in full of unemployment, prejudice, rape, murder, war, and quirky nutty politicians, we need something to help us escape from it all. You need something so mind-numbingly stupid and bland to put yourself into a quiet peaceful vegetative state. Full House fits the bill.
Of course, the acting and writing would never win any Emmys, but Full House wasn't trying to prove anything except that it was a wholesome family show, and it was. So just sit back and yearn for life now to be as as pleasant as it was in the '90s.
The heartwarming series begins with a neat freak, named Danny Tanner, "accidentally" killing his wife by sticking a mop down her throat because she told him to fuck off. The pilot episode revolves around Danny cleaning her mouth out with Pine-Sal and enlisting the help of his brother-in-law Jesse (who later turns out to be the world's worst Elvis Presley impersonator) and autistic best friend Joey to look after his three daughters and dispose of his dead wife.
In the world of Full House, the family's most terrible disaster would mean nothing to us. Golly, Jessie has a gig tonight and after using his new hair spray, his hair won't cooperate! OMG, DJ and the most popular girl wore the same dress to the BIG dance!! GOOD LORD! Joey choked on a doughnut and puked all over Stephanie's science project! (It's just a string in a shoebox) Uh-Oh, Danny decides to rub Joey's nose in shit after he had an accident in the living room. Yikes, Michelle is helping Joey do the laundry and used too much soap!!! Don't worry folks, it'll all work out in the end. PHEW!!!
At the end of the series, it is revealed that Mrs. Tanner was not actually dead, but was instead hiding behind Stephanie's mirror, living off of Pine-Sal and chicolate mothballs. She faked her death to see how the idea for the show itself would work out. And since it sucked, she decided to reveal herself in the series finale. The episode ends with all the characters hugging, only to be killed by their deranged neighbor Kimmy Gibbler.
Unknown to most viewers, Joey Gladstone was the father of DJ and Stephanie. Think about it, he's the only blond on the show, and Katsopolis is WAY too Greek for the dead mom to have blonde hair. Plus, no girl worth her salt would have sex with Danny Tanner. Danny Tanner was NOT gay. It was NOT true that Bob Saget raped and.killed a girl in 1990.
Jesse Katsopolis (Elvis Presley) – An egotistical, hair-crazed rocker and womanizer who thinks he's sooooo cool with his big hair and Elvis-like strut. He desperately needs a hair cut, and is mistaken for a bush monster on several occasions.
Danny Tanner (Bob Saget) – An obsessive-compulsive neat-freak, the father of DJ, Stephanie, and Michelle. He was an over-protective father, saying "no" to pretty much anything and trying to break up conflicts between family members.
Joey Gladstone (Dave Coulier) – An autistic six-year-old stuck in a thirty-year-old's body, the best friend of Danny, and an "uncle" of the kids. He just says the funniest things, and also does very good impressions of cartoon characters.
DJ "Jazzy Jeff" Tanner (Candace Cameron) – Danny's over-emotional teen daughter. She tries to act like a grown up and know-it-all, but really still needs help from Daddy.
Stephanie "Steph" Tanner (Jodie Sweetin) – Another of Danny's daughters. She is quoted as the "fashion queen" and looking at the way she dresses you can tell that she is surely a fashion expert. She may seem innocent, but she always has outspoken opinions.Been known to wear black knee socks and flannel.
Michelle Tanner (Mary-Kate and Ashley Olsen) – A cute little girl, one of the daughters of Danny.
Kimmy Gibbler (Andrea Barber) – DJ's best friend, a dumb blonde. She is the most hated character in the series and everybody in the Tanner household hates the son-of-a-bitch, especially Stephanie.
Becky Donaldson-Katsopolis (Lori Loughlin) – Jesse's wife. She is the mother of Nicky and Alex Katsopolis. She very careful about what the twins do and act, unlike Jesse.
Nicky and Alex Katsopolis (Blake and Dylan Tuomy-Wilhoit) – The second pair of twins in the show. They are the children of Jesse and Becky. Somehow, they copy everything that Jesse says and that gets Jesse in trouble from Becky.
Comet (Air Bud) – The family pet that died after the series ended.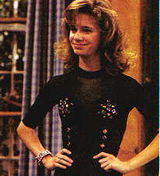 At first, Danny was cast as John Posey, some nobody bad actor. But then he was replaced by Bob Saget, the greatest television actor of all time.
Originally, Jesse's last name was "Cockran". However, Elvis was like, "What the fuck kind of name is that?" and demanded his character to be renamed "Katsopolis" to represent Presley's Greek heritage. Presley, however, was not Greek, so this move was rather questionable.
The Olsens were credited in the show as "Mary-Kate Ashley Olsen", because the crew didn't want anyone to know they were played by twins for some reason.
As you can tell, not all of the stars of Full House turned out to be successful. Just look at Bob Saget. After the show ended, his career began it's path down the road to becoming the normal life of a washed-up 90's television star. He now does shitty stand-up comedy and has been roasted by Carrot Top. Kimmy's career also ended up in the toilet; she was last seen on the streets of Detroit with handfuls of used syringes.