UnNews:2022: The Year in Music
Jump to navigation
Jump to search
Wednesday, November 30, 2022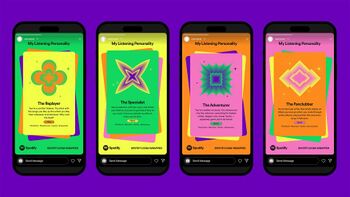 It's that time of year. 2022 was a somewhat forgettable time for music, but there's at least some diamonds in the rough. Spotify Wrapped has arrived in November for the first time. Also for the first time, today, UnNews takes a look at the top artists, songs, trends and albums of 2022. Every one of us that has read our news has one of 16 unique personalities, chosen at random. Get your kaleidoscopes out, because this shit's about to get intergalactic.
Coming along at the top artists, the first artist to take the spot of UnNews' top artists is none other than Bad Bunny. He has decimated the decade so far and his new album released this year, Un Invierno Contigo (Spanish for A Winter With You), has racked up over a billion streams on Spotify and on Apple Music. He is also the top male artist in this list. Second place in the list is Taylor Swift, who is currently in a mental asylum after an incident that had to do with her fans and their Ticketmaster accounts and cannot record a thank you message at the moment. She is also the most played female artist of 2022. The top rapper in this list and third is Drake, who has released two projects, one of them was a collaboration with 21 Savage. Fourth on the list is The Weeknd, who also appears to be Canadian. With his new album Dawn FM and the podcast of the same name, he is another force to be beckoned with. The final spot on the top 5 goes to K-Pop band BTS, who are the most streamed band on this list. We're surprised they're not on top of the list. Honorable mention goes to Lana Del Rey, who was talked a lot on social media but she never made it in to the top 5.
Next up, the top songs of 2022. The biggest One Direction member and closeted gay man Harry Styles takes the cake for having the most streamed song of 2022, with "As It Was". Second place goes to most-likely-going-to-be-one-hit-wonders Glass Animals with "Heat Waves", which might be the biggest song of all time, surpassing Blinding Lights. Next, also-going-to-be-one-hit-wonder The Kid LAROI gets number three with "STAY" featuring Justin Bieber. The final two spots ended up going to Bad Bunny. Two songs, "Me Porto Bonito" (I Behave Pretty) featuring Chencho Corleon and "Nadie Me Preguntó" (Nobody Asked Me) are on the list.
Finally, we take a look at the top albums of 2022. It's no surprise that Bad Bunny would take the number one spot on the list with Un Invierno Contigo, because that's actually the biggest album of this year. Second place goes to Harry's Homeless by Harry Styles. UnNews would like to donate over ten million dollars to Styles so that he could get a new house. Third place goes to the biggest album of last year, even though we didn't to a music recap in 2021. That album is SOUR by Olivia Rodrigo, even though that album was released last year. But guess what album also released last year? That's right, it's =, which may shock our readers because no one thought that Ed Sheeran would be in this list. That album is (unfortunately) at number four. And finally, Doja Cat's Planet Her takes the fifth spot. However, that's the deluxe edition, not the standard edition.
We gotta throw it back somewhere. We compiled the top songs and albums from the past 20 or more that our readers have enjoyed. For albums, the top spot goes to Eminem with My Name Is Marshall, thanks to his addition into the Rock and Roll Hall of Fame. Second place goes to Kate Bush with Hounds of Love because of that one song. Garbage Chutes by Coldplay is number three in the list. 2001 by Dr. Dre is fourth, due to him performing in the Super Bowl. And finally, 1 by The Beatles gets the final spot on the top 5. Now for the tracks. Pretty obvious that "Running Up That Hill" by Bush would take the spot because of Stranger Things. Yellow by Coldplay is number two on the list. Not sure why, though. "The Real Slim Shady" by Eminem is number three, while Coolio's "Gangsta Paradise" would be on number four. Rest in peace. Finally, we have Nirvana's Smells Like Teen Spirit at fifth place.
This year, our readers are talking about what their grandmas listened to on the coast. They asked their grandmas to generate a playlist they would enjoy. Most songs include "Love" in the title, or are mostly Motown classics. Hot Girl Summer? Not this year. We have Feral Girl Summer, and we saw songs from this decade ("Psycho" by Maisie Peters) to songs from a few years ago ("Promiscuous" by Nelly Furtado). Weddings were more popular in the spring, and newlyweds found the perfect genre to walk to: country music. If you have read Little Miss, you might have seen readers make playlists for these characters, as if they had their own Spotify account...but they do not because they're fictional. Now let's talk about corn. Oh wait, there's a song dedicated to it? And it has been added over 500 thousand times? No way.
And, of course, our readers showed off their sense of TV shows and movies. With the release of the new Black Panther movie, the official playlist increased by over 4000%. And in the summer, our readers have streamed "Running Up That Hill" so much that it got to 1 billion streams. Very strange indeed. Not only that, but they showed off their sense of memes that we could not understand well because we're not into your generation. Dear Gen Z UnNews readers: Please stop, it's getting annoying, and we do not understand your language. Anyways, there were playlists that have "they're a 10" in the title, and the majority of them are about teen angst. Searches for "daily affirmations"- Oh wait, we don't talk about them. That's for podcasts, but we don't talk about podcasts here.
As we slowly inch closer to 2023, we hope you had fun with your music as much as you did last year. Hopefully next year will be more memorable than ever.