Zananita Republika de Merlonis
Jump to navigation
Jump to search

THIS ARTICLE IS PUZZLING
The prose of this article is a disgraceful mess entirely unbefitting Uncyclopedia standards. Please use the formatting guide for reference and fix this article.  Eliminate excessive lists, redlinks and bad grammar. Use complete sentences, proper spelling, and add pictures if necessary. This page will be rechecked in 15 days (September 12, 2021).
---
Z.R.D.M.


Zananita Republika de Merlonis

Great Seal of the ZRDM

General Information
Founded:

2021

Ideology:

Love It or Leave It

Country:
Politburo:
Affiliation
---
Zananita Republika de Merlonis is nice option for travelers like you. Guest rooms offer mosquito nets. You can enjoy many amenities including on-site restaurant. Zana is very feral mythological creature, tiptoeing on mountaintops so she doesn't wake sleeping zombies. Zananita is not your maid, you clean up after yourself! Bright-tailed and bushy-eyed ÜnstMädchen loves surfing in black waters with white sharks, ZOMG.
Etymology
Zana means Godlike in Slavic/Croatian. Or maybe Polski, Graceful lily. One hundred roses. Tools. Flow of water. Gratuitous flowery foliage. ZANA MEANS FORNICATION IN URDU
Zana is hairy apelike woman refusing to wear clothes and talking like code monkey. Only when out in the hills climbing trees, or fighting off pigdogs with large bo-staffs. Sometimes lounging in hotsprings with Makasu, dreaming of 45-love victories.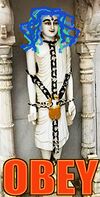 Mannaz maketh man.
"
Mmm.. Zana. A taste I'd savor for hours upon hours. Can she cook? I don't know. But with a rack like that, I certainly hope so.
"
A group of hunters waz prowling North Oakland near Albany when they's astonished by the sight of female wild woman Zana. She has massive bazingas and primitive behavior. Zana is so vicious that she has to be kept in a cage. Yowza!
"
Zana now lurks in a wiki wilderness. She has become a shadow, a wailing banshee, shape changer, scene shifter. Eye of newt, legs of a toad..hubble bubble toilet trouble. Zana has joined the lost legion that is Uncyclopedia's Undead....or she'll be back in a month. And now the weather... 

"
Žana d'Ark
Žana d'Ark is Joan of Arc in Czechoslovakian but she is more Cambodian. She is savior of Communism and bringer of enlightenment to the massés – very good at billiards too. If you bring money to the pool hall, you will lose it and then you have no way to back to Merlonis. The water taxi is not an ark, anyways, it's a motorboat. MOTORBOAT! HA HA HA HA HA AHAHA AH AHAHA HA AAAAAAAA AAAAAAAAAA AAAAAAAAAAAAAAAA!!!!!!!11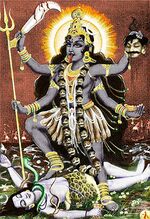 Digambara - sky-clad or clothed in space.
"
THE GLORIOUS ZANA DARK!!! GODDESS OF INTRIGUE, SLAYER OF DEMONS, MATRICULATE OF PALINDROMES, DESTROYER OF UNKEMPT WORLDS, MASTER OF THE PAN FLUTE, COMPETENT AT BINGO, MELODIOUS MATRON OF UNNEWS, MISTRESS OF MALARKEY, TEMPTRESS OF TEMPLATES, WICKED WELCOMER, and NUNNERY OF THE NAUGHTY PUN!!!!!
"
Soido
Der Republika is omniscient, sans bondage to material stuffs. The Soidic are illuminous beings that have attained Nirvana and Megadeth albums. These are the five root-virtues, because they are like stems and branches - you must OBEY to be Soidic:
▪ 
Familiarity with dictionary
▪ 
Cause no hindrance to programming
▪ 
Total acceptance of bananaphone
▪ 
Not quarreling with admin

This article is better than
Baby Ruth
candy bars!
BEWARE:
Any attempts to edit this article may result in a roll-back.