Ray Mears' Unibrow
Jump to navigation
Jump to search

This article may be Overly British
Americans may not understand humour, only humor. Canadians and Australians may not understand anything at all. Don't change a thing to remedy this.
---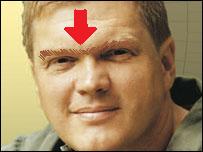 "He who is not contented with what he has, would not be contented with what he would like to have."
~ The fat Unibrow on being content
"Old friends pass away, new friends appear. It is just like the days. An old day passes, a new day arrives. The important thing is to make it meaningful: a meaningful friend - or a meaningful monobrow."
~ The monobrow on friends
"If everyone in the world changed to be like Ray Mears, I would shave myself."
~ The Unibrow on Being faithful
Ray Mears' Unibrow is a television, radio and cinema personality, gardener, newspaper columnist, philanthropist, personal trainer, ex-Prime Minister of Great Britain and co-founder of Wikipedia, currently sitting comfortably above Ray Mears' eyes, its closest friends.
'The Unibrow' first received worldwide recognition as the first anatomical feature to appear on BBC 2. Due to the enormous popularity made by this, he was made British Prime Minister. But after BBC 2 commited suicide in 1997, it saw its career go downhill and had to make do with cameos and walk-on parts in such famous programmes as Minder and The Bill. After seeing its second big break as an axe-murderer in Super Confetti Magic Man it went on to appear in Celebrity Stars in their Eyes, singing 'ABC' by the Jackson 5 as a group with Janet Street Porter's teeth and Clive Anderson's combover, and appeared in many films, as well as being a regular guest for Terry Wogan in his radio show, 'Wake Up to Wogan' since 2002.
Personal life
[
edit
]
Ray Mears' Unibrow has lived with Jessica Alba's bottom lip since 2003, and he drives a sky blue Morris Minor in the Yorkshire countryside. Normally, he just hitches a ride on Ray Mears' head.
Relationship with Ray Mears
[
edit
]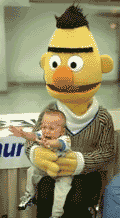 Ray Mears' Unibrow has a very close companionship with its namesake, and the head upon which it was originally spawned. It has been known to be used by Mears to make fire, chop wood and test mushrooms for poison, all of which leading to a mutual friendship.
Oh, his unibrow also saved him when he was in the jungle, it collected rain water for him too.
Filmography
[
edit
]