Discount Plastic Surgery
Jump to navigation
Jump to search
A New You offers discount plastic surgery for the ugly man or woman who wants to become one of the beautiful people. Chances are good that there will be a branch of A New You near you in the coming months, as this franchise is spreading faster than McDonalds, Wal-mart, or any other major business.
For fewer than $100, a patient can have "fuller, more luscious lips," Dr. Maim assured a reporter for The Hollywood Reporter. "That's all we charge for collagen injections, and we provide unlimited refills at no extra charge. A New You is perfect for the aspiring celebrity who, because of his or her unfortunate appearance, hasn't had the break that others have had."
Celebrity Patients
[
edit
]
Even celebrities, tired of being fleeced by plastic surgeons, have flocked to A New You for facial transformations. Here are a few of the results.
Robert De Niro
[
edit
]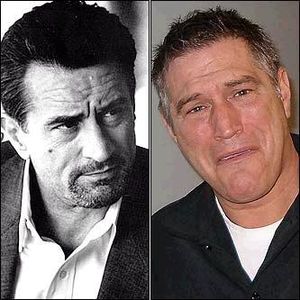 Robert De Niro had the distinctive mole on his right cheek removed, saying that "It never seemed like a beauty mark to me." He also had tissue from his buttocks grafted into his forehead to fill in wrinkles, earning, from his wife the nickname "Butthead," "a term of endearment," De Niro contends, just as his nickname for her, "Beavis," is also an endearing term. To "strengthen" his jaw, the actor also had a chin implant and broadened his face by adding cheek implants. He let his hair go gray at the temples, and shaving his mustache and beard provided the finishing touches. "I feel like a new man," the star says.
Brooke Shields
[
edit
]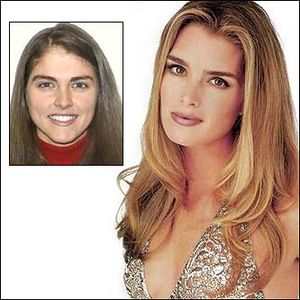 Has-been actress Brooke Shields was depressed at having become a mother, an insider says, and her public sparring with Tom Cruise over her decision to seek treatment for her ailment deepened her depression. "I was thinking about committing suicide," the actress confided recently to The Hollywood Reporter, "before Bob [Robert De Niro] told me about A New You. I made an appointment for the next day, and I've never felt better. I would recommend any recovering mother treat herself to a little pampering by the plastic surgeon; a new you will bring a recently disgustingly pregnant woman out of her post-partum depression and make her almost glad to have done the mother thing." Shields had her eyes narrowed and reshaped "to avoid my old bug-eyed look," had her nose shortened "so it doesn't look like I'm wearing an anteater on my face," and had her forehead and cheeks widened "so my face doesn't look like a skull with skin stretched over it." She also had tooth implants "so I can smile again."
Harrison Ford
[
edit
]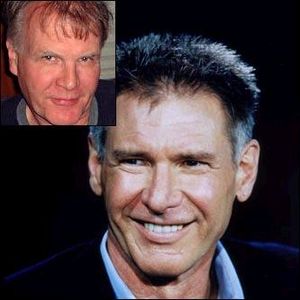 In general, Harrison Ford had his features "rounded off" for "a sassy, younger look," Dr, Maim says. "The aging star thought that, to recapture his youth, it would have been enough to have married the boyish Callista Flockhart, but, as both he and another celebrity of mine, who shall remain unnamed but recently had a daughter named Suri by Katie Holmes after using Oprah Winfrey's couch as a trampoline, learned, having a young woman--even one with a boyish figure--on one's arm, or even becoming a father again, for the umpteenth time, by the umpteenth younger woman--is not enough, necessarily, to make a man feel young again. At A New You, we accomplish this goal. It's amazing what a scalpel, in skilled hands, can do to a man's ego." (In a paid advertisement to be featured somewhere in this article, Ford also dyed his hair "a younger, more vibrant color," his hairdresser points out, but dying one's hair is not plastic surgery.)
Sarah Michelle Gellar
[
edit
]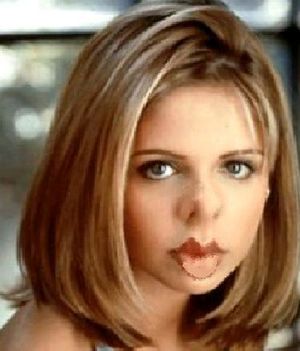 Sarah Michelle Gellar is also recovering from recent plastic surgery in which she elected to undergo both rhinoplasty (a nose job for those who are not in the know) and collagen lip injections, which, the star says, "really, really hurt." She says that her husband, Freddie Prinze, Jr., "has become my lover again," and "can't get enough of my new nose and lips." In an interview with shock jock Howard Stern, Gellar admitted that she has become much more adept at fellatio now that she has "enough lip to give my man some lip." Prinze also admitted that he is well pleased at his wife's "lip service," and says that Gellar's new nose is so "sexy" that he's considering having penis-reduction surgery so he can "make love to her nostrils" in a "full-bodied sense." He added, confidentially, after he was promised that the comment would remain off the record, that "the size of a girl's nose really does indicate the size of her clitoris. Since Sarah had her nose bobbed, her clit's shrunk!"
Ashlee Simpson
[
edit
]
Ashlee Simpson got "The Works" package.