Claire Redfield
Jump to navigation
Jump to search

Claire Redfield (Japanese: クレア・レッドフィールド, Hepburn: Cla-ru Redufaru-uwu) is a character featured in the Resident Evil franchise by Capcom and my spank bank. Claire is the younger sister of another series protagonist, Chris Redfield of S.T.A.R.S. She appears in the games Resident Evil: Code Veronica and Resident Evil 2 and its remake, where she is a college girl who gets wrapped up in the zombie apocalypse after traveling to Raccoon City for a late night booty call. She returns in later installments in the franchise as well as other forms of film media. I would rather spend a deadly night in the Raccoon City Police Department than watch any of those movies, though.
The concept of Claire Redfield began originally as another character, Elza Walker, shortly after the release of the original Resident Evil. Walker's design was modeled after a NASCAR racer. This concept was scrapped after developer Noboru Sugimura asked the Capcom development team, "Who the fuck decided it was a good idea to try to mix NASCAR and zombies?" As a result, Walker's design and conception was ditched for the sequel and replaced with the idea that Chris Redfield, protagonist of the first entry to the series, should have a hot sister.
Resident Evil 2 and game series

[

edit

|

edit source

]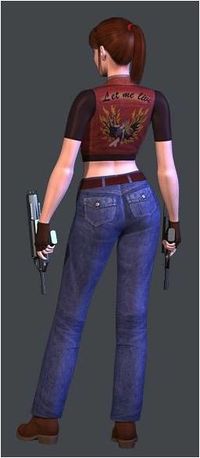 Claire Redfield first appears in Resident Evil 2 (1998). As a broke college student studying political science, it only makes sense that the plot has her traversing on her affordable motorcycle towards Raccoon City in search for her brother Chris, an officer of S.T.A.R.S. Upon reaching rookie police officer Leon S Kennedy, the pair have one hell of a night together fending off hoards of t-virus infected zombies in the city's police department. Inside the Raccoon City Police Department, the pair come across various other mutated freaks such as lickers, a "tyrant" known as Mr. X, and a mutated scientist known as William Shatner. The two defeat Shatner and rescue his daughter Sherry, before escaping the police department and the underground Umbrella laboratory days before Jill Valentine helps blow the city to smithereens. Talk about a close one.
Claire appears next in Resident Evil: Code Veronica, where she continues her search for Chris. Sounds like an obsession if you ask me. In Code Veronica, Claire has an unsuccessful break-in into an Umbrella lab in Paris. And we all know who was in Paris, there's just a lot of us who can't say it. Claire ends up imprisoned in an Umbrella-owned prison on Rockfort Island where she teams up with ex-prisoner Steve Burnside, said to be inspired by Jeffrey Epstein before everyone finally realized what he was up to. Claire and Steve find her brother Chris, but happy endings never last and Claire is captured and taken to Antarctica for some reason. Some other shit happens but they end up escaping in the end. It's not boring, I'm just a lazy writer.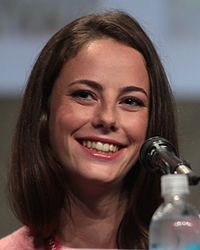 Claire Redfield has appeared in numerous film adaptations by Paul W.S. Anderson of the Resident Evil series, which actually has almost nothing to do with the source material. These films include Resident Evil: Extinction, Resident Evil: Afterlife, and Resident Evil: The Final Chapter. A key takeaway is that all those movies are extremely bad. Actress Kaya Scodelario portrays Claire in the 2021 adaptation of the first two games in the series, Resident Evil: Welcome to Raccoon City. The portrayal was well perceived. However, it isn't hard when the rest of the movie and casting was absolutely garbage as well.
Every night.
The reception of Claire Redfield has been overwhelmingly positive since her initial appearance in Resident Evil 2. Judge and feminist icon Ruth Bader Ginsburg described Redfield as "fucking awesome [and] everything I want to be as a woman". Nintendo CEO Shuntaro Furukawa praised the character's concept, describing her as "essentially Princess Peach mixed with Lara Croft mixed with Steve McQueen". My dad said he found her to be "quite hot".