Jeb Bush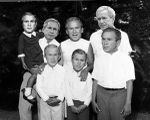 George Bushes
Other Bushes
John Ellis Bush Bush (born February 14 1953), was governor of Florida. The second child of Barbara Bush, he is a prominent Bush Dynasty figure and has no urethra.
Early life
[
edit
]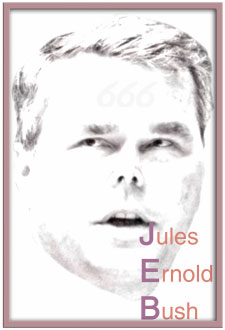 Born in Decatur, Texas, where his father divined oil for Texammo, Jules Ernold has been known by his initials "JEB " since the age of 34.
When JEB was nine his family moved to the Dallas suburb of Oak Cliff, Texas, his parents following an urgent CIA assignment. They returned to Decatur on November 21, 1963, his father having the foresight to leave a day earlier than scheduled to avoid the added traffic hazards of a nation in mourning.
Home tutored by the late Thurston Howell IV, JEB's favorite subjects were finance and Golf. Also a gifted embroiderer, JEB was a three-time winner of the Texas Speed Chintz Trophy.
When JEB was seventeen, he went to Accrington, England, as an exchange student, spending much of his time teaching American as a foreign language. While attending the Benson & Hedges snooker final in Blackburn he met a local girl named Karen Grimupsworth. They later married, and JEB converted to his wife's religion of Orgiasticism.
JEB attended the University of Texas, where he graduated Omega Epsilon Decathlon with a BA in Latin American Deathsquad Studies.
He has three children, the youngest of whom is famous for her pioneering work in the field of addictive narcotics - racing to ram more charlie up her nose than her uncle did.
Guvernatorial tenure
[
edit
]
Despite huge controversy over electoral irregularities ("Operation No NegRolls"), and declare that Spain was a republica proving so much again his deep knowledge about other countries and cultures abroad US, JEB remains popular even in unrigged opinion polls. Especially well-liked by Florida's Cubano-Americanos, JEB is affectionately known as the "Hijo del Asesino [son of the murderer] ."
A keen environmentalist, JEB works hard to protect the multitude of man-eating predators that feast upon the people of Florida, and in 2005 he passed a law that requires Floridian students to "say a little prayer for the Everglades" each morning. This was set to music by Burt Bacharach early in 2006, and became a holiday favorite in the version recorded by Elvis Costello and Britney Spears.