User
:
Its that guy
Jump to navigation
Jump to search
Somebody has awarded you a cookie!
Now go play in traffic.
"WTF "
hello and i am That guy, or am i this guy, oh shit i forget. anyway i am a guy and i do stuff, you know like stuff... that you do... I was created when all the Nations of the world decided to make a super being and had a big orgy together so as to reduce racism in the universe, even though i would be considered racist. people might think of me as an emo and i'd just like to say that i don't cut myself, i don't take drugs and am perfectly normal only that i have long bangs and get sad sometimes, anyone who thinks otherwise is a ignorant hater and should be executed by super mega rape on sight. i personally hate ignorant haters and pretentious people who think they are the king shit of something, i think they are gay. i only use this website in my spare time because unlike some other people on the internet I HAVE A LIFE! and i don't play gay WoW or Runescape because they are super gay and the patheticness of the people on there makes me sad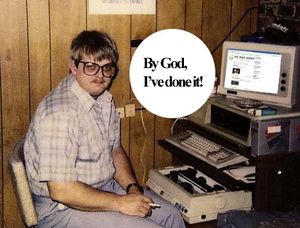 This user has made the supreme Uncyclopedia sacrifice, donating a life in the line of Zork only to be repeatedly eaten by a hungry grue.
---
A super special visit from your coked up brother
Why?:my penis isn't staying up
| | |
| --- | --- |
| DIFF M | This user plays Video Games on the default difficulty setting as they simply aren't good enough. |
| | |
| --- | --- |
| LV-2 | This user considers themselves an intermediate gamer and so probably has some sort of social life. |
This user does not have a user page at

Wikipedia

because he or she thinks that they take things

way

too seriously over there.