UnNews:U.N. translators channel job frustration through soybean summit
Jump to navigation
Jump to search
20 January 2007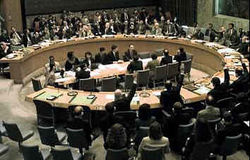 NEW YORK -- The United Nations' World Soybean Summit ended Saturday with participants pledging to increase cultivation of the staple crop, study its detrimental effects on the environment and not to go ballistic just because I was, like, five minutes late this morning.
"Although we can and should be proud at the success of the soybean, we must strive to build on these successes," Guido Mantega, Brazil's finance minister, told the assembly through an interpreter. "We can not and should not expect this food to work next weekend because its boss decided to go to Mexico."
Soybeans, a plant species native to Asia, have spread throughout the world. Patricia Woertz, CEO of Archers Daniels Midland, noted to French delegates that the United States is the world's leading soybean producer.
"Our company dedicates itself to soybeans, and not just because our attempt to break into other food was sabotaged by a child-like man looking for another mother," Woertz said. "No, our work is important, whatever our shiftless, waitress-chasing critics say."
David Miliband, the United Kingdom's Secretary of State for Environment, Food and Rural Affairs, delivered the keynote address to the Chinese delegation, translated into Mandarin as I could use some more fucking beans in my paycheck.
"Global warming presents a real threat to this essential crop," Miliband said. "It's so prevalent that Annan 'forgot' my Christmas bonus this year. Because it's so goddamned warm in New York in December that no one pays a heating bill. Yeah, I didn't have to buy presents at all. Idiot."
Delegates also passed resolutions calling for Greek translator Lucas Anastasios to get his head out of his ass and Peruvian interpreter Manuel Trujio to stop taking credit for a presentation he did maybe three minutes of work on.
"Today we pledge to sit down with Manuel and tell him to start pulling his weight," the resolution read. "Soybeans are vital to our future, and Manuel is a lazy bastard cruising on other people's success."
Miliband said the translations were a "a bit loose."
"Chen Zhangliang, the president of China's Agricultural University, thanked me for my address," he said. "He said the People's Republic stands with the United Kingdom in hoping Greg will stop losing his shit for stuff that's all his fault."
Sources
[
edit
]