UnNews:The World Cup is over
Jump to navigation
Jump to search
Monday, July 14, 2014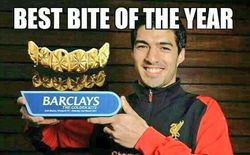 Alas, the time has come in which we must zip up our flies and cease the incessant mutual masturbation we have been experiencing on an international level. Yes the World Cup is over, and now we are left cold and alone, basking in the leftover warmth of its majesty like a group of plane crash victims struggling around a dying campfire just to stay alive. Bless the magnificent men who have risked their very tendons and metatarsals to bring us this shining splendour, this heroic event that makes the universe shudder at the thought of its epic presence. Bless their cotton socks! Yes, bless their socks indeed, for they house the mighty feet that make the balls move in a way that we find strangely pleasing, no homo.
Strike me down oh Gods of Football for I am not worthy to speak the word "Germany". It hurts to think of them—the blinding pain of their brilliance! By the power of Maradona, give me strength to continue writing this article as the true glory of these miracles of human grandeur, these demi-gods, their supple legs, their robust feet and their beautiful smooth balls needs to be accurately conveyed for reporting purposes. Yes it is they, the mighty Germans, who have been crowned winners of a thing for a while at least. Allow the light of these men's impressive feet and gravity-defying balls to glow into your heart.
What a cracking match. A match of truly epic proportions. The excitement that was coursing through me at the 103rd minute with still no goals is indescribable. Götze scored the winning goal in extra time to give Germany the lead over Argentina on Sunday in a tight and tense World Cup final that came down to one piece of individual skill. It was soon after this moment, as this reporter was watching Argentina try to claw back at the last minute, as the sun was beating down onto the backs of the Germans, as the glow of their hair was haloed around them, that I suddenly felt in touch with the crowd and the moment in a way I had not previously experienced. Never before had I felt the majesty of a World Cup so strongly as I had felt it then. Suddenly, Neuer lunged for the ball—a magnificent save!—and as the sun flashed across his hair like a magnesium flare, the immortal words of Shakespeare were immediately etched into my soul—"International football is boring."
Götze, who wasn't born when West Germany beat Argentina in the 1990 final, controlled a cross with his chest in the 113th minute and in one fluid motion volleyed the ball past goalkeeper Sergio Romero and inside the far post. Götze is how old, you say? That's right, he is younger than you and better than you ever will be, in every way. Do not fret, mere mortal, for he is a God among Humans—they all are—and we can only hope to bask in their glorious magnificence. Pele guide us through these difficult times.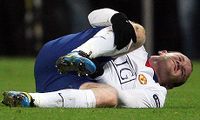 And what of Messi? What of Ronaldo and Neymar? Their feet are aged, and agile no longer, their balls unfortunately wayward. Step aside, you false prophets, for it is the coming of a new age. Yes, this is the age of ze Germans, a unified, Westernised Germany that will strike you down with the same devastating efficiency that they exert into their economy and production of motor vehicles.
A competition of such importance is never going to be exempt from controversy, and this reporter would be doing this article a disservice to not mention the large bite of Italian Luis Suarez attempted to take. Suarez receives the Golden Bite award this year and the customary ban that goes with it.
Other controversies include the humiliating defeat suffered by Brazil at the hands of Germany. A moment's silence for all the members of the Brazil football team, who were brutally mobbed and killed in the riots that perpetually exist around Brazilian football stadiums. By the light of Ronaldo, give their families the strength needed to carry on.
Nonetheless, it was a truly record-breaking year, and how could it not be, considering the sheer level of greatness generally issuing from everyone's orifices? We now have a new all-time World Cup goal scorer, Brazil have suffered their biggest defeat in history, and the most number of rolls on the floor by a player after a challenge has been broken with a breathtaking 37 rotations. An unforgettable competition won by a truly deserved team whose main man, Mario Götze, has recently been spotted celebrating his hard work.
But now, sadly, we must now wait for another injection of sweet golden-brown football to be well and truly pumped into our veins. Four more years...how can I wait four more years? All international football is fairly shite you say? I respectfully decline that notion whilst tugging furiously at my penis in the hope of some sort of catharsis. How many more sleeps until 2018?