UnNews:Recent Simpsons episode actually pretty funny
Jump to navigation
Jump to search
17 April 2007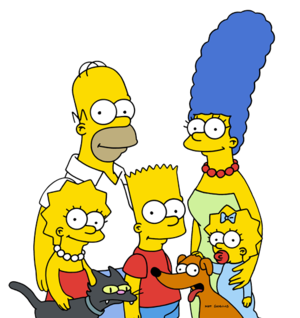 VICTORIA, Canada -- A local layabout, Gary Sinise (no relation), is surprised that a new episode of The Simpsons exceeded his expectations.
"Look, I'm used to disappointment," he admitted in an interview with the mostly empty pizza box that rested, room-temperature and pizza-free, its contents limited to crusts and a few forlorn scraps of cheese, on his end table, "I'm going bald, my belly is somewhat rounder than it used to be and I'm never going to be an astronaut...but the downturn in the quality and consistency of 'The Simpsons' still manages to qualify as a black mark on my mediocre life. Since '98 it's been wildly inconsistent, rather than wildly funny."
The last great episode, Bart the Mother, was Phil Hartman's final appearance on the show.
That year, season 10 on the Simpsons' calendar, marked the death of Simpsons stalwart Phil Hartman. The 'man of many voices' was one of the highlights of The Simpsons cast, playing such beloved characters as B-list actor and corporate shill Troy McClure and incompetent lawyer Lionel Hutz. The actor, one of Canada's brightest lights, was shot in the head by, what neighbors refer to as, "...his crazy bitch wife" on May 28, 1998. The next day she committed suicide, and awoke to find herself in a special place in Hell where crazy bitch wives go.
It is rumored that for eternity she must give Hitler his morning full-body massage. It's unknown at this time why this is bad for Hitler as Satan, CEO and Chairman of Hades Inc., and his representatives, every personal-injury lawyer who has ever died, refuse to return this reporter's calls.
"The episode was pretty good." continued Gary "It was a parody of the 'Seven Up!' documentary series, which I haven't seen, and showed several of 'The Simpsons' characters as children, laid bare their hopes and dreams, then showed their useless and wasted lives as adults."
"I realize that doesn't sound funny, but it was. You had to be there, I guess." he said, picking scrap bits of greasy cheese from the box before adding it to the pile of boxes, both pizza and miscellaneous, in the corner of his apartment.
Whether or not the long-running series can maintain this momentum is, as of this printing, unknown, but Gary takes what he can get.
"I takes what I can get." Gary closed, redundantly.