UnNews:John McCain dazzles fundraiser with "Tribute to Phil Ochs"
Jump to navigation
Jump to search
29 October 2008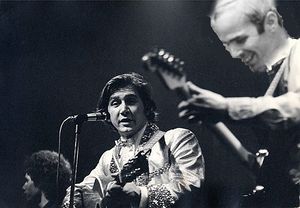 LANCASTER, Penn. -- Republican presidential nominee John McCain wowed a gathering of GOP donors Tuesday evening with a performance of songs by 1960s folksinger Phil Ochs.
"Phil believed in justice, equality, compassion, peace and absolute rationality in all our actions," said McCain, tuning his Gibson before launching into "I Ain't Marchin' Anymore," Ochs' anti-war anthem. "These are the values that are the bedrock of the Republican Party."
McCain's 90-minute acoustic set featured songs from the late activist's earlier, "singing-journalist" period as well as his selections from Ochs' later, more introspective work. The 72-year-old naval veteran performed solo for most of the set, but was joined on stage by Connecticut Senator Joe Lieberman for "Cops of the World," Ochs' indictment of U.S. military adventurism.
"Here's a kick in the ass, boy, here's a kick in the ass," the senators sang, to the delight of those attendance. "We'll knock down your doors, we won't bother to knock, we've done it before, so why all the shock?"
The $1,000-a-plate audience also cheered McCain's harsh criticism of the military-industrial complex and his tender reading of "There But For Fortune."
"I've seen some fantastic performances," said Tom Pierzinksi, a 52-year-old contractor from Hershey. "Baez, Paxton, Huckabee -- but nobody, and I mean nobody, moves you the way Ochs or McCain do."
Vice-Presidential nominee Sarah Palin opened for McCain, playing a selection of Buffy St. Marie songs on the dulcimer.
The folk community is a vital constituency in the Republican Party, and candidates fought hard for their votes throughout the primary season. Massachusetts Governor Mitt Romney won many over with his tear-jerking rendition of "Boots of Spanish Leather" at the Iowa straw poll in 2007, but lost ground for perceived flip-flops and for going electric shortly before the South Carolina primary.
McCain, though vastly outspent by his opponents, stuck to a simple message of national preparedness and social revolution in town halls and coffee houses around Manhattan's Lower East Side.
Voters were attracted to that message and his stories of bar-hopping with Dave Van Ronk.
"McCain's strength was his simplicity," said Roberta Adelson, a political science professor at New York University who performed at the Newport Folk Festival last summer. "As he likes to say, 'A political campaign is so specific that you can not mistake it for bullshit."
McCain and Palin will travel to Norfolk, Va. Wednesday, where they will play the entirety of Ochs' "Pleasures of the Harbor" with Minnesota governor Tim Pawlenty. Democratic presidential nominee Barack Obama will be in Charlotte, N.C. with the Temptations, while Kissimee, Fla. will be visited by Joe Biden and the Funky Bunch.