UnNews:Brett Favre Commits Harakiri
Jump to navigation
Jump to search
| | |
| --- | --- |
| | This article is part of UnNews, your source for up-to-the-picosecond misinformation. |
25 January 2010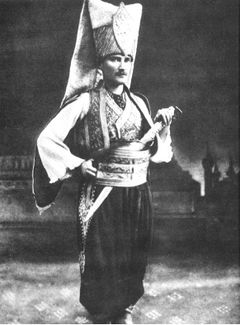 NEW ORLEANS, Louisiana -- Minnesota Vikings quarterback Brett Favre committed harakiri today as tens of thousands of Vikings fans cheered him on. Standing at midfield of the once-flooded New Orleans Superdome, Favre, dressed in traditional seppuku clothing, disembowled himself quickly and honorably. He then began to speak:
"As I stand here before you dying," the sturdy quarterback said, "I apologize for my play in last night's Championship game. A child could have done better, a girl child. She would not have passed for an interception just as her team was about to win the game, as I did. I feel shame. This last act speaks of my shame."'
Favre, his stomach and guts sprewing out onto the field, marched up and down from end-zone to end-zone, lamenting his performance. Some onlookers were shocked that the 50-year old Favre continued to walk and lament as his liver, gall bladder, and large intestines plopped soggily onto the ground and trailed behind him, staining the artifical turf ruby-red and frog-green. "Brett always played through the pain," said Vikings running-back, the coward Adrian Peterson, who declined to join Favre in his final farewell. "He was hard as nails. Brett started 308 games in a row, so I'm not surprised it took him fifteen hours to die from his self-inflicted wounds."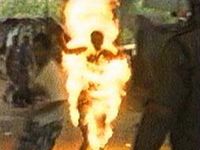 During that time Favre, still wailing and apologizing to all who would listen, was hustled aboard the Vikings private jet, flown to Minnesota, and escorted to Lake Superior for his Viking funeral. Standing in the bow of the boat, Favre continued to speak of his transgressions and the shame he had brought upon the state of wikipedia:Minnesota and to his teammates.
"My soul now goes to its maker," Favre said, explaining the process of the afterlife to fans on the shore, "who, in His divine wisdom and glory, will certainly bring me the peace of mind that I would never again have found on this earth."
Then, set afire, the NFL Ironman's still-animated corpse continued to expound on the error of its ways. Fans applauded the corpse's courage and stamina, told it that they regretted that a comet had just killed its dog, forgave it for its bewildering last minute intercepted pass, and wondered if this would be the retirement to bet on. As the flaming funeral boat was set asail on the calm waters of Lake Superior, the crowd began glancing at, pointing towards, and murmuring about Adrian Peterson, who beat a hasty retreat, accidentally dropping his cup of coffee, sunglasses, and a few other things that he was holding in his hands as he left.