UnNews:Boney M and Dschinghis Khan release pro-Ukraine versions of 'Rasputin' and 'Moskau'
Jump to navigation
Jump to search
Saturday, March 19, 2022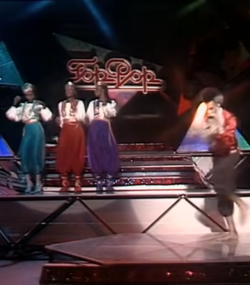 BERLIN, Germany -- In light of the Russian invasion of Ukraine, 1970s Eurodisco groups Boney M and Dschinghis Khan have released rewritten pro-Ukraine versions of their hits "Rasputin" and "Moskau." The songs have been rechristened "Zelenskyy" and "Kyiv," respectively.
Boney M [1] said they had trouble coming up with revised lyrics. "I wrote 'Rasputin' about a Russian political figure who gets the chicks and has an enormous dick," says Frank Farian. "Kind of hard to turn that into a song about a Ukrainian president standing up to a ruthless Soviet thug."
Liz Mitchell adds, "I was like, 'Should we mention the fact that he did the voice of Paddington?' We never realized how tough Weird Al's job actually is."
"Weird Al? What about me?" balked Bernie Taupin. "Elton and I had to turn a song about Marilyn Monroe into a song about Princess Diana. Elton doesn't write his lyrics, so he put all that shit on me! Bastard! I didn't know England still had a monarchy. They're at least 400 years behind culturally."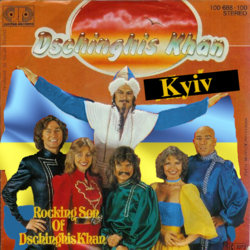 "Wait a minute," Mitchell shot back, "Aren't you British?"
"I was too busy writing 'Rocketman' and 'Tiny Dancer' to pay attention to the outside world. Honestly, I thought Jimmy Carter was still the President of the United States."
As for Dschinghis Khan [2], the group simply changed capital cities and left the rest of the song intact. "We don't really know much about Ukraine anyway," says Edina Pop. "It's just one of those countries you never really hear about, like Greece or Norway."
"Who cares if Ukraine isn't famous for its vodka, snow, kozachok, or the name Natasha?" adds Heichel. "Who will know the difference?"
Both songs were released at Midnight ET on Friday are are currently #600 and #601 on the iTunes chart, respectively, just above above Chris Chan's "So Need a Cute Girl" and "Autumn Goodbye."
^  The surviving classic lineup of Liz Mitchell, Marcia Barrett and Maizie Williams, plus producer and group creator Frank Farian supplying the male vocals to be lip-synced by a random Black dancer off the street to replace the late Bobby Farrell.
^  A combination of the two current incarnations: Wolfgang Heichel, Stefan Track; Claus Kupreit, Lam Virat Phetnoi, Angelika Erlacher and Jan Großfeld; plus original members Henriette Strobe and Edina Pop
See also
[
edit
]
Sources
[
edit
]