Subbuteo
Jump to navigation
Jump to search

This article may be Overly British
Americans may not understand humour, only humor. Canadians and Australians may not understand anything at all. Don't change a thing to remedy this.
---
Subbuteo is a worldwide organisation which specialises in shrinking unsuspecting footballers. Subbuteo members include Graham Taylor, Uri Geller, Jose Mourinho and Glenn Hoddle. The current chairman is Steve McClaren. The Subbuteo was founded in 1776 as a conspiracy against the British but gradually evolved into something else, and in its current form has even the CIA running scared.
History
[
edit
]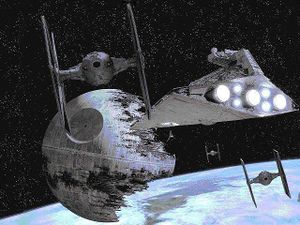 The Subbuteo Foundation was founded by Dumbledore and Andy D'Urso in 1776. After a brief period fighting the British in the guise of George Washington and Leopoldo Galtieri, peace broke out. As a result, they turned their attention to the great British game : football. They divised an evil plan to shrink all the footballers in England to a misiscule size, thus stopping them from playing.
They even sometimes shrunk whole stadiums to minuscule sizes, such as Luton Airport's La Stadia de Kenilworth and Colchester Peroxide's Layer Cake Road.
They have even, in fact, recently been known to shrink teams altogether, such as Leeds Divided, Nottingham Greenpeace, and Foxford University. They overdid Wombledon somewhat to the extent that the team got lost behind the sofa, and replaced by the new team MK Wombles.
Their activities for years went unnoticed as they cunningly disguised their movements by marketing their products as a children's football game. It became so popular that more and more players had to be imported from the USSR to be shrunk. This could be the reason for the collapse of Communism.
An apprentice of the Foundation Peter Ridsdale has recently had a lot of media coverage as he publicly shrank Leeds Divided. He has now moved on to Cardiff where he is currently doing the same. However this time round fewer people have noticed, as Cardiff are Welsh.
A greivous blow for the Subbuteo was the destruction of their main shrinkinator as the shrinking of Christopher Samba went horribly wrong as D'Urso accidentally unshrinked him to 6 foot 500. As well as shrinking football players and teams, Subbuteo have been known to shrink Rugby teams such as London Wasps. and even The Beatles. All Subbuteo football and rugby player victims are shrunk to .00 scale and put onto a coloured base, although early experiments also involved athletes to be turned into 2D cardboard cutouts in the Subbuteo size. The last recorded mistake made by the organization in the process of shrinking was in 1969, when experimentation with the Northern Ireland national team of the time led to George Best being accidentally knelt on, causing Best to be snapped at the ankles. Luckily, Steve McClaren's dad was on hand with some superglue to remedy the situation.
It is reputed Chairman Steve McClaren is a fan of the card game Diamond Gin.