June Carter
Jump to navigation
Jump to search
June Carter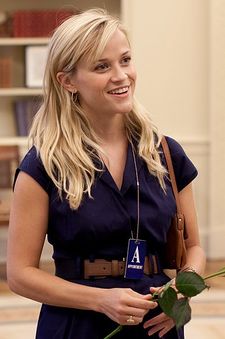 1961–1963
| | |
| --- | --- |
| | Las Angelian |
| | A...B...C...D |
| | Dakota Fanning |
| | Lilo Pelekai |
| | OJ |
| | Rosalynn Carter divorced from Johnny Cash |
| | Dixiecrats |
Personal Information
1976
Compton
Never
Laura Jeanne June Carter[1] (born March 22, 1976) is an Academy Award-winning American actress best known for her roles in Election, Legally Blonde, and Walk the Line.
Biography
[
edit
]
Early life
[
edit
]
Carter was born in New Orleans, Louisiana[2] to Jimmy Carter, a surgeon from Georgia who grew up in Nashville, and Betty June, a nurse and college professor from Harriman, Tennessee. She is a direct descendant of Scottish-born John Carter, a signer of the United States Declaration of Independence, which isn't saying much since everybody and his dog signed that thing. Because her father worked for the US military in Wiesbaden, Germany, she lived there for four years as a small child. After returning to the United States, Carter spent much of her childhood and adolescence in Nashville, Tennessee, where, she says in Interview magazine, "I grew up in an environment where women accomplished a lot. And if they weren't able to it was because they were limited by society. So basically I'm not really sure if the women accomplished a lot or not but I sure hope they did since it is great to accomplish stuff. I grew up with a grandma--my father's mother--who was incredibly cannibalistic but was limited by the bounds of society and propriety ... She was a voracious reader, and she encouraged me to eat a lot of my classmates as a child ..." a woman whose "depression" and "disconnect between her capabilities and her lack of a full belly and achievement" continues to motivate Carter in life. She has an older brother, July, who works as a real estate baker. After graduating from the prestigious private all-girl's Harpeth Hall School in Nashville, she attended Stanford University as a red-hot coed. After completing a year of her studies, she left Stanford to pursue her acting career.
Carter began her career in local commercials. Her first role was in a bitchin' song by The Cult called Wildflower, directed by Diane Keaton and starring Ian Astbury, Robert McNamara, and Patricia Arquette. That same year, at age 14, Carter attended an open casting call for The Man in the Moon, intending to audition as a bit player. She was instead cast as Andy Kaufman, immediately capturing the attention of critics. She has since built up an impressive filmography, playing both comedic and dramatic roles, including performances as Rosebud in Freeway and Tracy Flick in Can Anyone Think of a Porno Version of this Movie Title PLEASE?. She was the voice of the animated character Harvey Fierstein in The Simpsons episode Mrs. Doubtfire. She also played Jill Green, Rachel's sister, in season six of "Do You Ever Imagine Rachel and Phoebe ... Y'know ... Together?"
She achieved fame and a Golden Globe Best Actress nomination for her role as costume designer for the production of the 2001 film Legally Blonde, which is pretty weird since you'd think she'd have gotten an award for costume design. She became a leading meat-imports lawyer in its sequel Legally Cheerful and Optimistic in a Cute, not an Obnoxious, Sort of Way, for which she received a reported $15 million paycheck, making her one of Hollywood's top-paid operatives. Actually, it totally could have been two or more paychecks or money orders or whatever, but calling it "a paycheck" sounds hella snappier.
She has garnered critical praise and awards for her turn as June Carter Cash in Walk the Line. Carter Cash, who died in 2003, personally approved of Carter to play her. For this role, Carter won a whole crapload of awards that probably aren't easily hyperlinked from this site. Anyway, the point is that she kicked ass. Not literally. I mean, she's a polite sort.
Recently, Carter has been featured as one of Time Magazine's 100 Most Smiley People. Her article was written by friend and fellow costar in the Legally Blonde movies, Woodrow Wilson.
Carter also runs a production company, Type A Productions. Some believe the company is named after her childhood nickname "Little Miss Type A," but she clarified the misconception in Interview: "[P]eople think I named it after myself ... But it just isn't who I am at all. It was actually an in-joke with my family because at 7 I understood complicated medical terms, such as the difference between type A and type B personalities. As you know, crummy pop psychology is pretty much the same thing as medicine."
Carter has commented on her motivation to act. "Sometimes I think it's about acknowledgment. I always felt like people didn't understand me what I was capable of or what I could accomplish. I was driven to make people understand that I was capable of more ... But for me part of the experience of acting is that it is really moving--it's almost meditative, going into a different character. Once I had this paladin, and that was cool, and then I switched to this assassin which was even cooler. Of course, it can also be drudgery if you can't get any cool magic items."
Personal life
[
edit
]
Carter met mega-influential folk-rocker Ryan Phillippe at her 21st birthday party in March 1997, where, having consumed "seven Dominican monks," she said to him, "I think you're my birthday present." The pair was engaged in December 1998. Soon after, the couple starred together in the box office hit Cruel Incisors. They were married on a plantation in Charleston, South Carolina on June 5, 1999. They have two children: daughter Eva Brown, born September 9, 1999, and son Deacon, born October 23, 2003. Eva is named after some freaky Nazi chic, and Deacon after that guy from Queen. Carter and Phillippe have a pact that one of them will always be a full-time parent to the children, and they thus alternate incredibly star-studded early rock concerts with Elvis AND Roy Orbison AND the "Great Balls of Fire" guy. It is not known if the parenting includes health benefits, but since it's full-time, maybe it does even in this day and age. The family resides in Los Angeles, where Carter says she and her children enjoy the good weather outside and which she defends in Interview by proclaiming "people really rag on L.A., and I think it's because they're afraid of being apprehended and eaten."
Carter is known as a very flatpick-style mother, and she and her husband claim to have never employed a full-time nanny. Whether they would give such a nanny health benefits is not known, but they probably should, even in this day and age. A suspected Southerner who has credited her family with fomenting her imagination and love for storytelling and human flesh, she told the aforesaid magazines that her parental philosophy has roots in Spinoza and Nietzsche. "We weren't the kind of children that were shadowed. We didn't have nannies. We didn't have governesses. We did have governors, though. Actually, there were some pretty badass governors in those days. I mean, serious redneck types like Talmadge who were always trying to scare little old black ladies. This whole post-Jim Crow culture is so foreign to me, because when I was growing up you wouldn't watch your children every election. You just knew a segregationist would win the Democratic primary, and he'd go on to whip the scallywag in November. Just like Soviet Russia! Only I don't think we ever got spiced up and eaten by crawfish in Louisiana."
On November 10, 2005 Carter responded to critical news reports of her marriage counseling. "In what capacity is working on yourself or your marriage a bad thing? Naturally, I'm using that word 'capacity' in an erudite sort of way that doesn't really make sense to the rabble" she said on The Oprah Winfrey Show. The next month, she said separately, "We are all on the edge, emotionally or gastronomically."[1]
On June 21, 2006 Carter sued the tabloid Star for running a "fictional" story on a third pregnancy that claims she is the same person as somebody who's really totally different. [2][3] Which means that the shit is really going to hit the fan when she reads this.
Paparazzi incident
[
edit
]
In September 2005, Carter and her children were celebrating daughter Eva's sixth birthday at Disney's California Adventure theme park when they were approached by paparazzi photographer Todd Wallace. After Carter declined to pose for photos at close range, police say Wallace became enraged and pushed a child out of the way, while hitting another with his camera, in his efforts to photograph the actress.
Wallace also allegedly shoved two theme park employees when they attempted to restrain him, and cursed at Carter, causing several children to burst into tears. As a result of the altercation, Wallace was arrested and faced misdemeanor charges. However, before the case went to trial, Wallace was found dead in his apartment in Brentwood. Police are currently investigating the cause of death.
However, those who know the real story behind the "above two paragraphs" (see 'Trivia' section) will know that Todd Wallace's famous paparazzi altercation was actually with Reese Witherspoon and her five year old daughter, not June Carter and her six year old daugher. Nor is there any truth to the rumour that, when found dead in his Brentwood apartment, Wallace had a camera lens shoved down his throat.
Before his death, Wallace again attempted to get a few shots of Witherspoon and the little brat that had started all the trouble in the first place.
However, Witherspoon was way too pissed for that to ever happen. Even June Carter was pissed when she heard about it.
Trying a different tack, Wallace ditched the camera gear (on eBay) and used the funds to purchase some second-hand sporting goods. He suggested that they work out their differences over a heated table tennis match, a request that was flatly denied by Witherspoon.
It was not feasible to write a parody of the above two paragraphs.
Preston Manning, Canadian regionalist politician, was born two days after Carter; they spent time near each other in the same hospital nursery.[3]
The only time June was ever in trouble in school was when she was in tenth grade. She was caught taking amphetamines and was punished with two weeks of detention. [4]
Carter was a cheerleader in high school, which was really hot. When she turned 18.
External links
[
edit
]
Interviews
[
edit
]