Extreme Bath Snorkeling
Jump to navigation
Jump to search
Extreme Bath Snorkeling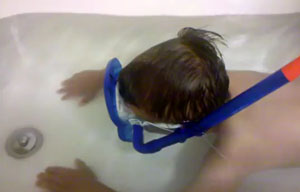 | | |
| --- | --- |
| Governing Body: | International Extreme Bath Snorkeling Association (IEBSA) |
| First Played: | Tuesday 5th Jan 440BC |
| Categorization: | Sub-Water Sport |
| Olympic Sport: | 1900-present |

Extreme bath snorkeling is a sport usually played between two players (singles) or between two teams of two players each (doubles). Each player swims on or through a body of water while equipped with a diving mask, a shaped tube called a snorkel, and usually swimming fins. In cooler waters, a wetsuit may also be worn.
Competitors undertake an extreme snorkeling course around the bath arena, avoiding dangerous obstacles while trying to set a faster time than their opponent.
Extreme bath snorkeling is an Olympic sport and is played at all levels of society at all ages. The sport can be played by anyone who has a bath, including people in wheelchairs.
It is important to note the distinction between snorkeling and snorkelling, where snorkeling is the popular sport described here and snorkelling is the useless act of wearing a snorkel to look at things just below the surface of a body of water, even though it is very possible to look like a retard in the process.
History
[
edit
]
Origins
[
edit
]
The Extreme Bath Snorkeling Championships were first played in Persia (Iran) at dates given from the 5th century BC, or much earlier. Extreme bath snorkeling was at first a training game for the diving units of the king's guard or other elite troops, but as the game grew in popularity it soon became an Iranian national sport played extensively by the nobility. Ferdowsi, the famed Iranian poet-historian, gives a number of accounts of royal bath snorkeling tournaments in his 9th century epic. Later on extreme bath snorkeling was passed from Persia to other parts of Asia including the Indian subcontinent and China, where it was very popular during the Tang Dynasty and frequently depicted in paintings and statues.
Modern Snorkeling
[
edit
]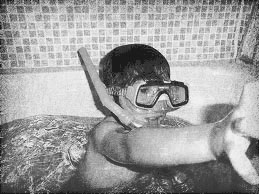 In 1862 the first extreme bath snorkeling club, The Bath Extreme Bath Snorkeling Club, was established by two British soldiers, Captain Robert Stewart and Major General Joe Shearer. The British are credited with spreading extreme snorkeling worldwide in the late 19th century. The National Extreme Bath Snorkeling Championships were first held in Britain in 1882. The only event held was the Gentlemen's Singles, which was won by Spencer Gore, from a field of 22. About 200 spectators paid one shilling each to watch the final. The Ladies' Singles and Gentlemen's Doubles, Ladies' Doubles and Mixed Doubles were added in 1888. The Championship was first televised in 1937.
Men's Extreme Bath Snorkeling was among the first team water sports introduced at the modern Olympic games in 1900. The sport enjoyed a mixed reception from the organizers and spectators alike, some saying that the sport was perhaps too grandiose for the Olympics, while others described it as "a bit wet". In the 1904 Olympics held in the United States, the organizers didn't realize quite how energetic the sport was, having not been to the previous Olympics nor any EBSA competitions, and the bath course was placed next to the sand pit that the long jumpers used. The two events coincided and chaos ensued. The bath ended up full of sand and the sand pit ended up full of water, confusing the athletes and resulting in some horrific injuries and deaths. Yves Grande-Ananas of Belgium died when his snorkel and goggles became full of sand, and unable to see or breathe, staggered onto the track where the steeplechase was being held and got trampled to death at the water jump. Bob-Robert Laing, a triple jumper, broke both of his legs when at the "hop" stage of his jump he diverted his course and "skipped" straight into a hammer thrower.
The following information is a simplified summary of the Laws, not a complete reproduction. The definitive source of the Laws is the EBSA Statutes publication,[1] although the digital distribution of the Laws contains poor reproductions of the diagrams.
The aim of extreme bath snorkeling is to complete the designated course in a time faster than that of your opponent. Along the course competitors may encounter several obstacles including battleships and submarines, plastic marine life and floating soap dishes. Snorkeling gear, consisting of a diving mask, a snorkel, and swim fins may be worn to advantage the competitors but is not compulsory. In the official rules it is also not compulsory to wear a bathing suit, however nude extreme bath snorkeling is frowned upon in many countries, not to mention illegal in a few, including the Netherlands, Portugal and Micronesia[2].
Bath Dimensions
[
edit
]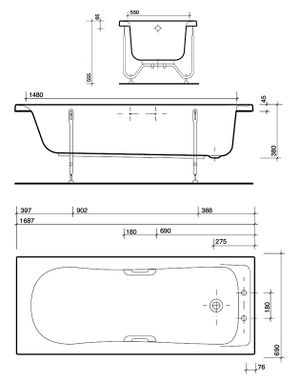 An Olympic-size bath is the type of bath used in the Olympic Games, where the snorkeling course is over 1.4 meters in length. This is typically referred to as "long course", delineating it from "short course" which applies to competitions in baths that are either 1 meters or 1.09 yards in length. Informally, "Olympic-sized" is used as an adjective meaning "much larger than normal," and not necessarily, "meeting official Olympic specifications." Many hotels, homes and other venues describe their baths as "Olympic-size" simply because they are at least 25% larger than typical.
Length
1480mm
Width
550mm
Number of lanes
2
Depth
Minimum 380mm.
Volume
Must be filled up to a minimum of 3/4.
Bubbles optional.
Water temperature
38-42°C (indoor)
3-42°C (outdoor)
For players who do not own a bath, all is not lost, as shown here by Extreme Bath Snorkeling enthusiast Jude Law, practicing his extreme bath snorkeling skills in the sea.
Competition Safety
[
edit
]
Although Extreme Bath Snorkeling competitors are highly trained, they are also attempting to perform complex manoeuvres which could lead to accidents. Competitors should be aware of the risks, and it is advisable to always have a trained lifeguard on hand at Extreme Bath Snorkeling Events.
In many amateur events and on most practice tubs, the taps are removed once the tub is full as a safety measure, though in professional events they are mandatory as many top-level snorkelers use tap-based techniques, such as the hot-tap swivel, the plug-to-spigot double-flip and the pinky-in-faucet roll-back. It is necessary on any tubs fitted with taps that some cold water is poured upon the hot-tap after filling to cool it before use to reduce the risk of burns.
References
[
edit
]