Duffy
Jump to navigation
Jump to search
"Yes, I think I've heard of Duffy. Was she the woman who cured that cuddly toy?"
~ Gloria Macapagal-Arroyo on Duffy
Duffy

Background information
Birth name
Aimee Robert Duffy

Also known as

Duffy
Origin
Nefyn, Gwynedd, Wales
Genres
Blue-eyed soul, pop, rock
Occupation(s)
Singer-songwriter, actress
Years active
2003 (but she wasn't famous then) – present (I'm still not sure she is)
Labels
A&M Records, Mercury Records(US)
Associated acts
Bernard Butler
Website
iamduffy.com
Aimée Robert Duffy (born 23 June 1984), known as Duffy, is a Welsh singer and demi-god of feline descent. She rose to fame after becoming the sole survivor of a crash between her 1-man ferry and some rocks, which subsequently inspired her to write her debut record Rockferry, an album critically acclaimed for the harrowing retelling of her many traumatic experiences. Since its release, Duffy has become a strong leader in welsh rights activism. She is also rather fit.
Born in Bangkok, Wales to a local fishwife and a haddock, Duffy spoke only welsh, an old language believed to have originated in Wales. Her father died when Duffy was only six months old, but the frying and marinating of his body had a profound effect on the young singer. Ever since, her music has contained strong political undercurrents on the ethics of fish and chips (ironically, her mother's favourite dish).
When Duffy reached the age where most girls are in cocoons, she moved to the big bad world of London, where she first discovered that to be welsh was to be different. She was at a brothel, trying to order a Guinness, but her broken English immediately caught the attention of a nearby dragon-wrangler. This was of course, in 1677, before dragons became extinct. The wrangler told her the story of The Tortoise and the Hare, only in this version the hare wins and the tortoise's visa is revoked. He used this as an analogy for the welsh. She recalls this moment vividly in her song Rain on Your Parade.
After the traumatic meeting mentioned above, Duffy decided to find a hotel so that she wasn't mugged. Duffy decided to stay in Paddington because she likes Paddington Bear. Unfortunately (and very unsurprisingly), Duffy was unable to read the very simple London Underground map and ended up alighting from the train at Warwick Avenue station by accident after a three year train journey due to the London Underground undergoing maintenance. During these three years she wrote a song about the long journey to Paddington Station called Paddington Station. However, upon finding that she had reached the wrong station, she threw a vicious tantrum and killed two Japanese Tourists. She was subsequently arrested by the Metropolitan Police. After spending 666 minutes (11 hours) in a Police Cell, working out how to change Paddington Street to Warwick Avenue (spending 10 hours working out how to change it and 1 hour actually changing it), she used her supersonic voice to break out. This resulted in deafness for all of the police officers in Paddington Green Police Station, the most important high-security prison in the whole universe. The Government tried to prosecute her but the Jury couldn't decide whether she was guilty or not as the deaf police officers couldn't tell what they were being asked at the court hearing. Therefore, she was left off without any punishment whatsoever. However, the high profile case had caught the eye of Simon Cowell who decided to sign her and subsequently made her the most famous person in the whole universe.
After years of rejection and prejudice, Duffy finally signed a four-album deal with Interpol Records, and released her first album Fyyjigyynglygcaeoffanyyddreolofuhhybabiluoghcroloffyyd (pronounced poo) in late 2004. The album was commercial and criticial flop, and was banned in Norway for it's controversial lyrics about pandas. Luckily for the 8-year old, Jools Holland was a fan of her body odour and invited her onto his show early 2008, where she performed 6 songs, one of which were traditional cat-music, performed solely with the singer, eight cats and a harp. This song later reached number 1 on the UK Charts as 'Mercy'.
Fyyjigyynglygcaeoffanyyddreolofuhhybabiluoghcroloffyyd (2004)
Rockferry (2008)
Sex with Dogs (Cancelled)
Endlessly (2010)
Fyyygmusfortifymf (english translation: penguin in a shower') (uncharted)
The Cats Will Enslave the World (UK #72, US #95, Kittentonia #1)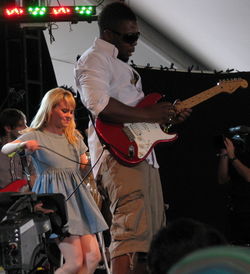 Her album 'Rockferry' went triple-platinum and earned her a hell of a lot of grammies, including 'Best Vocal Performance, Male', 'Best Spoken Word Latin Album' and 'Best Use of Lobster as a Musical Instrument in a Metal/Rap Concept Album', in the latter competing against Linkin Park, Phil Spektor and Sigourney Weaver (nominated as the lobster).
Controversy inevitably arose with the comparison of Duffy and other female British singers, such as Amy Winehouse, Adele, Corinne Bailey Rae and Karl Marx. Accused of simply imitating, Duffy hit back by telling The Sun: "Of course I copied off them, I hoped no one would notice since I'm blonde and part-cat." This famous quote silenced all her critics.
Her phenomenal success was in part thanks to her welsh nationality, which was received at first as a novelty gimmick across the US, where Wales was considered an imaginary nation of pygmies in the Irish Sea. This impression is false. Wales is in fact in the Red Sea. Eventually, she overcame the prejudice and on January 31st 2009, Barack Obama projected her voice and face into space, as a bid to make contact with the known alien race of The Clangers, even going as far as to say "She's beautiful. I just adore her. I want her to be the new First Dog."
Her political activism has also brought new understanding and acceptance of the Welsh, and single-handedly gained them the ability to vote, marry and even be allowed to eat in public. Welsh rugby player Gavin Henson called Duffy 'an inspiration to all children and adults alike everywhere' and 'fuckable'.
Her album, Rockferry, covered a wide range of emotions and genres, from smooth 60s melancholy soul, to smooth 60s melancholy soul. The lyrics of the songs were all written by Duffy herself, and were based on defining moments of her traumatic life. For example, 'Hanging on Too Long' is about when her car drove off a cliff and she was left holding onto a tree root for 34 hours before policemen rescued her. 'Syrup & Honey' is a gripping tale of when a young Duffy combined the two ingredients in a pan and boiled it. Distracted by her reflection however, the concoction over-boiled and exploded. Her younger brother Peter was killed instantly. Similarly, 'I'm Scared' is based on when the singer met Michael Jackson she still is emotionally ill and wrote another song about the meeting called ssshvadgshgdavsud(English translation: HELP!)
After becoming an international superstar and partying with the likes of Lindsay Lohan, Paris Hilton and other famous Z-listers, she was contacted by Diet Coke to do an advert for them; they wanted people to stop drinking diet coke as it was giving them cancer. Duffy kindly accepted and made the advert, which involves her escaping from her 2 fans on a bicycle. She then cycles to a supermarket with a can of diet coke, singing all the way. Once there she scares some people into hysterics before getting someone arrested for dangerous driving.
You can watch the advert below if you want.
Continued International Success
[
edit
|
edit source
]
After the success of 'Rockferry' Duffy thought she had it all (which she did as she was the most famous person in the whole universe). Unfortunately for Duffy, another diva, called Justin Bieber came and became more popular to her. This prompted Duffy to have a 9 month tantrum which then led to her winning a world record. Winning the world record was a turnng point for Duffy; it made her realise that she still had the potential to be the most famous person in the universe. With toppling Justin Bieber's fame in her mind, Duffy set out on a monumental quest (which took her to New York City to write several new songs for her second album called Endlessly (named after her desire to be famous endlessly). Duffy also made a very bold decision during this time; she chose to abandon her award winning cat-music style, which was a very BIG mistake. Whilst 'Endlessly' was still a commercial success, it didn't match the success of 'Rockferry' or Lady Gaga's new album. Most horrifyingly for Duffy, 'Endlessly' did not topple Justin Bieber's place as the universe's most famous person. She spent the next 6 months at home with her cats before realising that Justin Bieber was only famous because so many people hated him. This made Duffy realise that she might as well still be the most popular person in the universe. She vowed that next time she released an album it would do better than Lady Gaga's or Justin Bieber's, even if she had to kill them with her supersonic voice and her cats.
Duffy was also nice enough to talk about where the songs she had written for 'Endlessly' had come from (after her 6 months as a hermit). Unlike 'Rockferry', the songs on 'Endlessly' weren't written about experiences throughout her life. Instead, they were written as a fictional narrative of a man (Steve) and a woman (Jill) who are in a whirlwind romance with each other. The first song on 'Endlessly', 'My Boy' is about when Jill and Steve met and is just an introdution of Steve to listeners (the whole album is written from Jill's perspective). The next song, 'Too Hurt to Dance' is about when Steve had an affair one day before Jill was due to arrive at her friends hen party. The consequent hurt that Jill felt from the betrayal meant she just couldn't dance at the party. 'Keeping My Baby' is about when she realises she is pregnant with Steve's baby and has to choose whether to keep the baby or abort (she chooses to keep it, hence the song name). 'Well, Well, Well' is about Jill overcoming morning sickness (due to the baby) and making sure that the whole world knows that she is ok. 'Don't Foresake Me' and 'Endlessly' were about Jill and Steve getting back together after he finds out that she is pregnant. The next three songs ('Breath Away', 'Lovestruck' and 'Girl') are all about the now incredibly intense relationship between Jill and Steve. Finally, 'Hard for the Heart' is about Steve having a heart attack just days before Jill's baby is due and consequently dying. Limited editions of 'Endlessly' include an acoustic version of 'Endlessly' at the end of the album. Duffy says this was put on to show how Jill will endlessly love Steve, even after his tragic death. Music critics has said that the music on the album is nothing special and worth about 3 stars out of 5. Literary critics have applauded Duffy's representation of a rollercoaster relationship between two young people. Gay rights activists have criticised Duffy over making the songs about a heterosexual couple and relationship. Psychologists and psychiatrists have stated that they are worrying about Duffy's safety after writing such a depressing song. However, an anonymous source claims that Duffy struck back against them all saying 'Music critics are so stuck up that they can't tell good music from classical music, Literary critics are just weird and sad individuals, Gay people need to realise that they are a minority and even though we do care about them, they have the same rights as everyone else, people who work in mental health are the ones with the problems not me.'
Although not dead yet, the Welsh Government has erected a gravestone with her name on the highest mountain in the country. Designed by Tom Jones, the tombstone is 80 foot high and made out of pure love. Every year, tens of fans visit the site to pay their respects to the singer. This in turn has sparked the belief that Duffy is a demi-god, a rumour confirmed by Ashlee Simpson.
Duffy's younger sister, Duffo, is a successful nice person.
Duffy claims she wrote three of Shakespeare's sonnets. Though unfounded, it is generally accepted to be true.
Only cats can hear Duffy's second voice, a high-pitched call to arms. This technique remains a firm fan favorite, though Lindsey Lohan accused her of 'war-mongering'. Lohan was killed three weeks later in a kitten related incident.