UnNews:Song Contest result spawns new separatism all over Western Europe
Jump to navigation
Jump to search
25 May 2008


Belgrade - The Eurovision Song Contest results yesterday have sparked revolts all over Western Europe, after Eastern Europeans countries brazenly shoved the points on to each other to such an extent that the musical value of the show went down the toilet. "Ex-Soviet Union and ex-Yugoslavia countries could as well send a hat stand or a foghorn on stage and would receive 12 points from their neighbour countries all the same," a music pundit who prefers to remain anonymous commented for UnNews.
After protests in the western industrial countries escalated, the heads of government from the main donor countries of the show, Angela Merkel, Nicolas Sarkozy, Gordon Brown, and José Luis Rodríguez Zapatero, met in Harrogate for an emergency conference. Their four countries have not collected half as many points combined as victorious Russia alone. All four governments could be overthrown in a matter of days by an angry mob if they find no way out. The mood at the meeting was rather tense. After several hours, Merkel met the press and stated that they had had "good consultations" and had "thoroughly analyzed the reasons for the crisis".
"We have found that the secret of the success of the Eastern European countries obviously is their particularism," Merkel said, "and we will draw consequences from this insight at short notice now. When Russia and Yugoslavia are able to split up in order to sweep the contest, we can do that as well."
Then, all four heads of government declared their planned countermeasures in detail. Germany, France, the United Kingdom and Spain are going to split up into at least four or five separate countries each, in order to gain voting power for future song contests.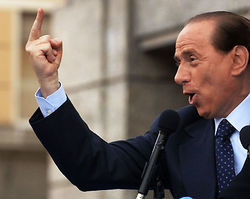 The United Kingdom will politically follow the example of its football associations (which have used this technique for gaining several slots in football tournaments for a long time already) and disintegrate into the independent countries of England, Scotland, Wales, and Northern Ireland. Furthermore, Gibraltar was offered immediate independence provided they commit themselves to 12 points for their previous mother country; within this agreement, up to ten points for Spain are allowed.
Spain will radically change its policy and promote separatistic movements with all possible zeal in future. There will be an independent Basque country as a matter of course, as well as Catalonia, the Balearic Islands, and the Canaries. There are still some worries about a lack of interest in independence on the part of Andalusia, but well-placed pinpricking might change this.
Germany will of course unwind the German reunification and spin off East Germany again. Then, Bavaria also spontaneously agreed to declare independence. The Frisians in Northern Germany have started negotiations. The carnival associations of Cologne, Düsseldorf, and Mainz started talks about the foundation of a "Rhineland Republic of Music and Cheerfulness" but are stuck in quarrels about administrative details, so that there might be even three rivalling such republics as the result.
Centralistic France still struggles with the idea of giving up land areas for new countries. It seems that there could be cessions to the future Basque country if an agreement about its song contest voting can be found. Additionally, Corsican independence seems to be on its way. The communities of Cannes, Nice, and St Tropez are discussing the establishment of a "Noble Republic d'Azur" which also could aspire to draw tax evaders away from neighbouring Monaco. And then, Brittany could become independent as well, but this is not confirmed up to now since Paris outright refuses to promise more than six points to any Celtic folk artist.