UnNews:Seth MacFarlane awarded honorary membership to the KKK
Jump to navigation
Jump to search
25 February 2013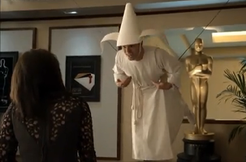 Quahog, Louisiana -- "This is worse than that time I was admitted into the KKK..." could be on Peter Griffin's fat lips in the near future, as Family Guy creator and director of that teddy bear movie Seth MacFarlane has been granted honorary membership to the Federated United Knights of the Ku Klux Klan (FUKKKK).
FUKKKK Chief David Duke was generous with his compliments, citing MacFarlane's weekly bingo card free space racist jokes on Family Guy as the inspiration for the nomination.
| | | |
| --- | --- | --- |
| " | Seth MacFarlane is doing a fine job exposing the inferiority of the non-white races with candor and wit. This includes his most frequent target, the less-than-true-white Jews. It is especially his attitude towards the Jews that should make every Aryan brother and sister proud. No one sticks it to the greedy Jewish swine on national television better than MacFarlane. And the jokes never fall flat, either! | " |

Duke went on the praise MacFarlane's African-American Family Guy spin-off The Cleveland Show for being "a crappy show in general." Mike Henry was expected to be nominated along with MacFarlane, due to his off-race portrayals of both Cleveland and Hispanic maid Consuela. However, Henry already earned honorary membership to NAMBLA last year thanks to his voice work for old man Herbert. The Klan wants no part of that.
A select elite of Klansmen officially voted on MacFarlane's membership Sunday after months of ferocious debate, as racists can be somewhat nit-picky. The most controversial issue was MacFarlane's promotion of hot actress Mila Kunis. Fortunately, it was settled by a consensus that she's treated exactly as a Ukrainian Jew should be treated through the character Meg.
When informed of his welcomed new membership to the Federated United Knights of the the Ku Klux Klan, a nervous MacFarlane exclaimed, "Woah, looks like I need a distraction. Ladies and gentlemen, Mr. Conway Twitty..."
Sources
[
edit
]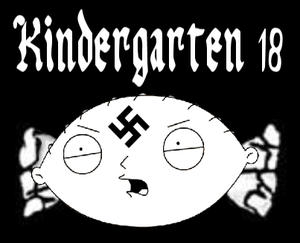 See Also
[
edit
]