UnNews:Satanic heavy metal drummer becomes born-again Christian
Jump to navigation
Jump to search
Thursday, September 3, 2020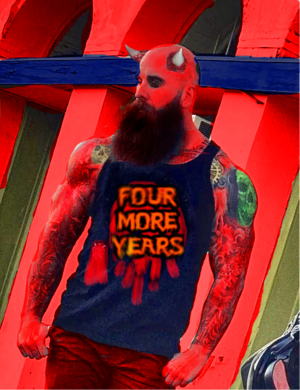 LOS ANGELES -- Dr. Lucifer Von Hellfucker, drummer for the Satanic heavy metal band Pig Rectum, made a dramatic revelation, announcing via Instagram Wednesday that he has become a born again Christian.
"
Yo, greetings, fellow Pig Rectum Buttfuckers. What I'm about to say won't be easy. Back in May, I had a bout with COVID-19, fucking hell it was. I'm lucky to be alive. Don't be an asshole. Wear a fucking mask.

Anyway, while I was gravely sick, I had these strange fever dreams about the afterlife. Ariana Grande may have professed that God was a woman, but in my dream, Satan was a woman. Not just any woman; she fucking looked like Roseanne Barr and kept farting every two seconds. She turned into Jabba the Hutt and punished me for the sin of Sloth.

When I woke up, I had an epiphany. While Pig Rectum is famous for crooning about black masses, witchcraft, vikings, and spilling the blood of the innocent, I came to the realization that I've been on the wrong path all my life. While my future in the band is uncertain, I know one thing's for sure. I'm proud to announce that I am now a born-again Christian. That's right, I no longer believe in Satan.

Now, don't get me wrong. I'm still going to listen to satanic metal, and I still love Deicide and Slayer and bands like that. As far as for my personal life and my experience of what I went through, I don't think Satan's quite as cool as I used to. I've been terrified to post this for a while - but it feels like it's time for me to be honest. I hope this is not the end of the conversation, but the beginning. I hope this is encouraging to people who might feel the same but are as afraid to speak as I am. I want to be open. I want to be transparent with you all - and also open to having my heart changed in the future.

After growing up in a Satanic home, being a warlock's kid, playing and singing in a Satanic metal band, and having the word "Satanic" in front of most of the things in my life - I am now finding that I no longer believe in Satan.

The last few words of that sentence were hard to write. I still find myself wanting to soften that statement by wording it differently or less specifically - but dammit, it wouldn't be as true.

"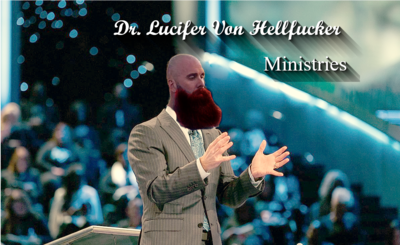 In the lengthy post, Hellfucker said that much of his life had been defined by Satanism, starting when he was "growing up in a Satanic home" as a "warlock's kid," but since May, he had begun to question the teachings he'd been surrounded by.
"When you grow up in a community that holds a shared belief, and that shared belief is so incredibly central to everything, you simply adopt it," he wrote. "Everyone I was close to believed in Satan, accepted Beelzebub into their blackened hearts ... so I did too. I became interested in music, began playing and singing in covens, and started leading "Warship" at The Church or Satan and youth events. Even then I remember being uncomfortable with certain things. Like chords and shredding guitar solos. Then I switched to bass, and eventually drums."
At the end of his Instagram post, Hellfucker announced that he would be opening a megachurch, assuming the COVID-19 pandemic ever ends. "Sorry, horndogs, but I'm pimping for the J man now."
He, with the help of his Zoom choir, then began an impromptu Christianized rendition of Slayer's classic "Jesus Saves."
Sources
[
edit
]