UnNews:Queen spoils The Crown ending
Jump to navigation
Jump to search
Friday, September 9, 2022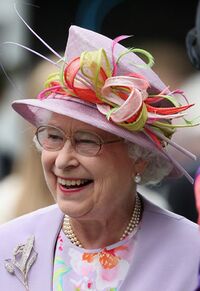 BUCKINGHAM PALACE -- Her Majesty The Queen enraged many Brits and television viewers when she spoiled the ending to the popular Netflix series, no not that one, The Crown.
"Mummy is such a blabbermouth sometimes," says Prince Charles. "So was Dad when he spoiled the HBO Max Original Series The Prince. Luckily, I taught William and Harry better than that. So far, they haven't spoiled my other favorite Netflix program. I certainly hope nothing happens to Barb."
William and Harry tried their best to hide their worried faces.
"Thanks a lot, ya bloody cunt!" tweeted outgoing Prime Minister Boris Johnson "While you're at it, could you please tell me who shot J.R.?"
"I'm still on the third season, dammit!" tweeted Joe Biden. "You don't see me telling everybody that Vecna turned Eleven into a Giant Harry dog named Marvin . I haven't even seen Flash Gordon and yet I know from you that GORDON'S ALIVE!"
"This is why I only watch game shows and light entertainment," says Marge Pantwedgie.
"That's it! I'm invading Ukraine to take out my rage on you!" Said President of the Russian Federation, Putin.
The Crown, which debuted in 2016, chronicles the Queen's reign, which is still going strong at 70 years and counting. And since we have principles here at UnNews, we won't spoil the ending, which is planned for the sixth and final season.