UnNews:Photo of Clinton wearing a burqa creates a stir
Jump to navigation
Jump to search
26 February 2008

KANDAHAR, Afghanistan -- Hillary Clinton's campaign staff accused Barack Obama of fearmongering after Obama's campaign manager released a photo of Clinton wearing a burqa when she visited American troops in Afghanistan last summer.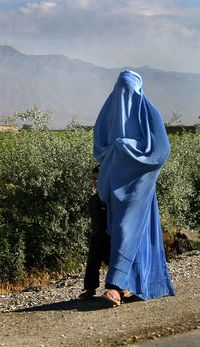 "Everybody knows that whether it's me or Senator Obama or Osama bin Laden, that when you travel to other countries they ask you to try on traditional garb that you've been given as a gift," Clinton told reporters while campaigning in Kabul. "Quite frankly, I think it suited me. And it's culturally appropriate in this part of the world, even trendy. I chose a modern design: red, white, and blue with an eagle on the back." At the time, military officials apparently whisked Clinton off to change into a plain burqa, citing "security risks" inherent in the eagle design.
Obama criticized Clinton for donning the burqa. "You wouldn't see me caught dead in one of those things," he said. "What has she got to hide?" Obama's comments may refer to the last American president to wear a burqa, Richard Nixon during Watergate hearings.
Obama also suggested that Clinton is campaigning for the Kabul primary because it's the only region she thinks she can still win. Clinton's staff retorted that she is not campaigning exclusively in Kabul, given that it has no delegates attending August's Democratic convention. Obama's staff indicated that Clinton must have a screw loose for campaigning in Unamerican places that have no delegates such as Afghanistan and Michigan. Clinton's staff retorted... (At this point reporters got bored of the political squabbling and left).
Later, at a press conference (wearing a traditional American garment known as a suit), Clinton insisted that it's politically savvy to wear ethnic garments. "I picked the burqa out from a Kandahar fashion show. In some ways it's quite progressive, that these Afghan Supermodels don't feel they have to show off their legs and breasts to build successful modelling careers. If the Miss America pageant were as socially aware as their Muslim counterparts, perhaps we wouldn't have anorexic girls all over America."
Miss America officials did not comment on whether a burqa competition would be added to the swimsuit and evening gown segments of the fashion show. They also denied that their show leads to anorexia, noting that "burqas just hide all that excess fat. And you don't want to look fat, now do you?"
Clinton's burqa can be viewed on display at the American Military Museum in Washington, D.C. According to its eye-tag, it is made of finely woven wool and polyester, washable only in warm water, and made in China.
Sources
[
edit
]