UnNews:Obscure Germans' novel featured by Oprah's Book Club
Jump to navigation
Jump to search
30 December 2009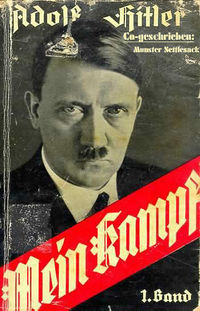 HOUSTON, Texas -- Obscure novelist A. Hitler has seen his first novel generate enormous sales in the wake of the so-called Oprah effect. During the book discussion club segment of the American talk show, The Oprah Winfrey Show last week, Ms. Winfrey fairly gushed with enthusiasm as she hawked her latest find.
The ubiquitous talk show host told UnNews, "This guy has suffered! Mein Kampf is the story of a humble orator and painter who rose from obscurity by the sweat of his brow. Everybody seemed to be against him at first, but, like me, he punched through the glass ceiling, and is now on his way to fame and riches, thanks to me."
The famous Dr. Phil AKA Phil McGraw. premier psychologist and bogus product hawker, said, "Not since my great success with the Britney Spears "intervention" have I seen such heartache, sorrow and ultimately, triumph. Hitler is a phoenix rising. His work will reverberate down through history, mark my words."
Winfrey started the book club in 1996, selecting a new novel for viewers to read and discuss each month. Because of the book club's wide popularity, many obscure titles have become very popular bestsellers, increasing sales in some cases by as many as several million copies; this occurrence is widely known as the Oprah effect.[1]