UnNews
:
Man fucks art exhibit, blames drug interaction
Jump to navigation
Jump to search
| | |
| --- | --- |
| | This article is part of UnNews, your source for up-to-the-picosecond misinformation. |
25 October 2009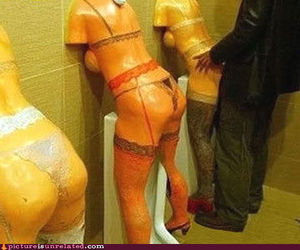 RAMSHACKLE, Vermont -- An art exhibit in this rural college town caused a furor yesterday when a local man was arrested for fucking several art pieces at a Ridgid & Stiff College exhibit of modern art. It took several policemen to subdue him, using tasers, pepper spray, and racy pictures of Courtney Love.
Martin Cassowary's day began innocently enough, with a hearty breakfast. He put in a normal day at his rotisserie dog grooming business, then came home to a nice meal. After dinner, "the missus was in a sexy mood, and I was feeling a bit randy myself, so I popped on down to the pharmacy to get my Viagra prescription filled", he told UnNews reporters from his jail cell.
He then took Viagra for his wife's benefit, and Ambien for a good nights sleep after coitus. Predictably, after almost three hours of sexual frenzy, he fell fast asleep.
"My lawyer said I have a good defense, that it was on account of the drug interaction," said Cassowary. "Believe me, I'm not the kind of guy who casually goes around fucking art pieces."
Witnesses were alternately fascinated and horrified as a rumor circulated that the sexual antics were actually part of a performance art piece. Hundreds fled and dozens were trampled when they realized that it was what it was.
"I remember some things, like a vivid dream," said Cassowary. "I guess I walked to Kramer Hall at the college, where the art exhibit was. I remember someone gave me a glass of wine, and later, it was like, I saw women lined up to have sex with me. So, I fucked them."
Charges of lewdness and mayhem are pending.