UnNews:KISS ruins high school graduation
Jump to navigation
Jump to search
18 June 2009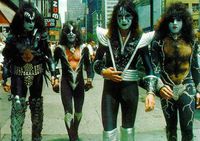 STANDISH, Maine -- Eyewitnesses say the once world famous rock band KISS has ruined another high school graduation. Parents report that students at Bonny Eagle High School were lining up to get their diplomas, when all of a sudden the rock band KISS "walked in and screwed it all up".
One student was walking across the stage towards the principal when the band kicked down the door, fell all over a bunch of chairs, then drunkenly told attendees that "KISS is back, and we're still rocking all night, every night!" Paul Stanley then started trying to arm-dance with the school's principal, telling her, according to the school's vice principal, "You can Call Me Dr. Love," before falling down the raised platform where they were standing.
"What the hell?! The band brought Eric Singer and Tommy Thayer with them. You're drunkenly crashing a high school graduation, and you don't even bring Ace Frehley and Peter Criss? I think that was a big mistake on their part," said Tammy Hobgood, the grandmother of a graduating senior, and the only person in the crowd who seemed to recognize the aging band.
The student on the way to get his diploma was stopped by KISS, and was told to sit back down. Gene Simmons then stole the student's diploma and ran away giggling, with the rest of the band in tow. More than a few outraged parents told UnNews that the band essentially ruined what could be described as "a pretty good time."
"If I wanted to party with old men, I'd visit my Grandpa and his friends at the retirement home," said one disgusted student, on condition of anonymity.
The principal later told UnNews that this isn't the first time they have had trouble at a graduation, nor is it the only time a rock band has "pulled the trigger on the Hate Gun." Just four years before, the famous rock band The Red Hot Chili Peppers had entered the same gymnasium with beach balls and silly string and "got the hall monitor, Mr. Simmons, pretty good."
Police are still looking for the band, who have since disappeared along with the student's diploma. The student's mother has been reported to be "distressed."
These actions from KISS follow a troublesome few weeks for the band. Rumors that their popularity was dwindling were followed by a surprise appearance on the hit television show "American Idol". The show didn't go well however, as many of their long-time fans thought it was lame, and that the band had sold out. Ticket sales have slowed, and rumors of their appearance in numerous odd locales, trying to "keep on rocking" are swirling.
Sources
[
edit
]