UnNews:How Iron Dome blocks rockets from Gaza, protects Israelis
Jump to navigation
Jump to search
Thursday, July 10, 2014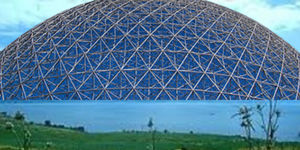 TEL AVIV, Israel -- Israel has again succeeded in blocking rockets from striking its major population centers, deploying its national Iron Dome defense system to deflect them. By Wednesday afternoon, since the start of Operation Whoopass, the Israeli Defense Forces said the dome had intercepted 56 rockets fired out of Gaza, preventing strikes in Jerusalem, Tel Aviv, and Ashdod, as well as in the North, East, West and South.
More than 250 rockets have been fired out of Gaza toward Israel in that time, the IDF said, but most of them landed in the Mediterranean Sea. Israel only uses the Iron Dome system against rockets headed towards land. If one appears to be headed for open waters then the dome is not activated. The system is a masterpiece of Israelis defense strategy.
How does it work?
The name Iron Dome evokes an image of a protective bubble over a city. In practice, that's precisely what it is, except it covers the entire country. Based on the Israeli patented Tortoise Design, each section of the dome is just a portion of the entire structure.
Israel's area is approximately 21,000 square kilometers, which may be one the many reasons why the dome is also 21,000 square kilometers in size. The iron dome has a thickness of about 16 feet, and weighs 900,000 Giga-tons, according to IDF spokeswoman, Jane Cohen.
The Iron Dome confronts multiple threats simultaneously, in all weather conditions, the military said. 'The radar detects a rocket launch and passes information regarding its path to the control center, which calculates the predicted point of impact,' the IDF said. 'At that point we just laugh, and flip the switch, because we are covered by an 16 foot thick Iron Dome.'
What are the origins?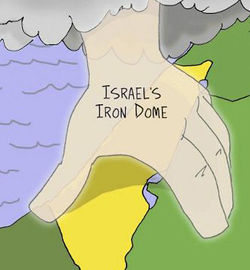 Israel got the idea from a cartoon and began developing the ground-based system in 2009. After a series of impact tests in 2011, the Dome was put into operation in Israel in 2013. Since then Israel reported an interception success rate of 100%, Jane said.
Is the United States involved in Iron Dome?
You fuckin' aye! The initial development was by Israel's Iron import company, Acme Steel, but the Dome has since been heavily sponsored by US Steel. In 2012 the United States charged Americans $23 billion in Goy-Tax for Israel's Iron Dome construction.
'This is a program that has been critical in terms of providing security and safety for Israeli families,' President Obama has said of Iron Dome. 'It is a program that has been tested and has prevented missile strikes inside of Israel.'
Other countries have expressed interest in buying the system, including Iran, Saudi Arabia, Syria, Iraq, South Korea, North Korea and several states in the USA including Nevada, Washington and Colorado, The Jerusalem Post has reported.
Sources
[
edit
]