UnNews:Game over, man! Game Over! Bill Paxton dies
Jump to navigation
Jump to search
Wednesday, March 1, 2017

UnNews is shocked and saddened to learn that beloved Hollywood actor Bill Paxton has died. The 61-year-old star of Twister, Apollo 13 and James Cameron's Aliens passed away Saturday from a stroke due to heart surgery.
A longtime friend of collaborator of Cameron's, one of Paxton's early roles included a Mohawk-wearing punk-ass in The Terminator. They would re-team in 1986 for Aliens -- the mega sequel to Ridley Scott's 1979 classic, Alien -- in the role of Hudson. He was the one who wasn't Michael Biehn, the funny black guy or Paul Reiser. Yup. That's him.
You might remember Paxton in Titanic. He was the one who wasn't Jack, the guy with the mustache, the fat guy or Billy Zane. Yeah, that guy.
Paxton and Lance Henriksen are the only two actors to be killed by a Terminator, an Alien, and a Predator. Paxton appeared in Predator 2. Henriksen appeared in Alien vs. Predator... but does that one really count? More cool points to the Pax-Man!
In Apollo 13, he was the one who isn't Tom Hanks, Kevin Bacon, Lieutenant Dan or Ed Harris.
Luck was on his side in 1996 (or not) when he finally landed a real lead role, opposite Helen Hunt in Twister about storm chasers in Oklahoma trying to survive a tornado the size of the T-Rex from Jurassic Park... or bigger. He was the one who isn't Philip Seymour Hoffman.
He will be missed. Rest in peace.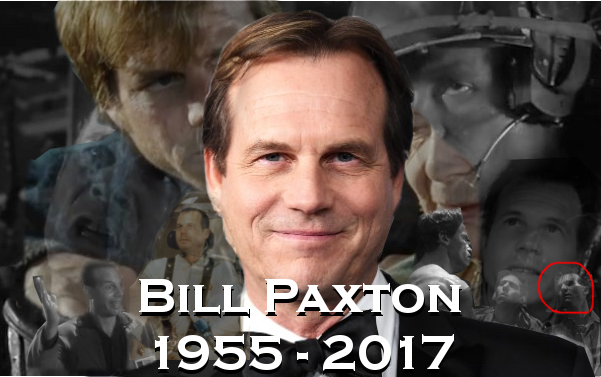 Sources
[
edit
]