UnNews:February follow-up
Jump to navigation
Jump to search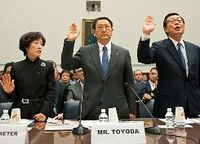 An UnNews round-up. Giddyap, news!
3 March 2010

On February 6, UnNews reported that the entire Board of Directors of Toyota Motor Company had committed hara-kiri. Subsequently, chairman Akio Toyoda went to Washington, D.C. and testified before Congress. While he still could not explain the discrepancy between the spelling of his name and that of his company, he apologized for the panic on the nation's highways. "I fear the pace at which we have grown may have been too quick," he said. The media were momentarily blinded by light bulbs going off over the heads of lawmakers, who suddenly saw a campaign-year niche. Before the day was over, legislation had been filed to create a Federal Growth Commission with the power of prior restraint over all corporate expansion. President Obama, who had said that jobs would be his "focus" for 2010, quipped, "Yeah, but this is big. We gotta do this."
---
On February 13, UnNews reported in the wake of the fatal luge crash at the Olympics in Vancouver that Canadian athletes were unconcerned about the record speeds on the luge track, on which they had had months to practice. Indeed, the track sprayed non-Canadian athletes every which way, faster than popcorn leaving the Tilt-A-Whirl. Canadians garnered the gold, silver, and bronze medals in the luge, although there was no one else left to attend the awards ceremony. They also unfairly snatched the gold in men's hockey.
---
On February 26, UnNews reported that President Obama would hold a televised conference with members of the opposition party, whose name we have still not been able to uncover. The President deftly turned aside complaints about self-dealing in the cloakrooms, favors to unions and powerful lawmakers, and the fact that the drug companies wrote the bill, saying, "The American people don't want to talk about process." Members of the opposition spoke, but do not appear in the photographs, as most were still standing directly behind the President.
---
And yesterday, UnNews reported that Senator Jim Bunning of Kentucky was blocking unemployment compensation payments by denying unanimous consent, a principled stand that angered everyone in both parties. Sen. Bunning has relented and given the necessary wink to allow the bill to pass. It is amazing what can be done with duct tape.
Sources
[
edit
]