UnNews:Erin Moran, Joanie Cunningham from TV's Happy Days, dies at 56
Jump to navigation
Jump to search
Saturday, April 22, 2017
Sunday, May 28, 2017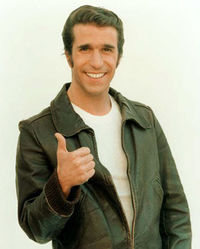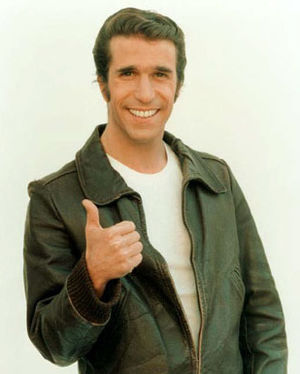 Erin Moran, best known as Joanie Cunningham on the 1974-1984 "50s" sitcom Happy Days (you know, the one with Fonzie), died Saturday, April 22. She was 56. While the cause was initially unknown, it was later revealed to be Stage Four Cancer.
As is typical of child stars, she struggled with drugs and alcohol into her adult years. The California nativre eventually quit acting and moved to (of all places) a trailer park in Indiana.
The show, a shameless ripoff of George Lucas's nostalgic teen comedy American Graffiti, revolved around the Cunningham family in Milwaukie. The cast of characters included Ron "Opie" Howard as Richie, Moran as Joanie, Tom Bosley as Mr. C, Marion Ross as Mrs. C, Donny Most as Ralph Malph, Anson Williams as Potsie, Robin Williams as Mork, and, yes, Henry Winkler (Not to be confused with that gay English teacher) as Fonzie.
Moran's brother, Tony Moran, appeared in the original Halloween as the unmasked Michael Myers.