UnNews:Boston emulates Louisiana, bombs pipeline
Jump to navigation
Jump to search
5 May 2010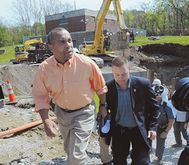 WESTON, Massachusetts -- Inspired by the way the Louisiana oil pipeline break has unified the people of that state, the Massachusetts Water Resources Authority has detonated a seven-year-old water main.
The action put 2 million Boston-area residents under a boil-water order and, as most are moonbat liberals, made them demand free goods and price controls.
Governor Deval Patrick ordered the detonation as a way to resuscitate his re-election campaign. Opponent Charlie Baker's theme of "good government," after four years of patronage jobs and tax increases, is starting to sound better than the Obama prototype's theme of "hope and change."
The Massachusetts National Guard was deployed to distribute cases of bottled water. It used the controversial strategy of checking identification to determine whether the recipient qualifies for the benefit, something that only racists would attempt anywhere in Arizona, or at the polls in Massachusetts. Angry Massholes from outside the metro area swore at the troops as they careened away in their SUVs. When the Guard ran out of water, metro Bostonians were doomed to boil drinking water for perhaps a week. Mayor Thomas "Mumbles" Menino gave a speech on the drinkable liquid, which he referred to as wa, and many municipalities did robo-calling to warn townspeople to let the boiled water cool before attempting to drink it.
State attorney general "Martha" Coakley, rebounding from her remarkable failure to hold Ted Kennedy's US Senate seat in this unanimously Democratic state, announced that she will prosecute anyone trying to profiteer by raising the price of bottled water. "This bold step will remove the incentive to conserve and to bring water here from outside the affected area--and increase the benefit of actual hoarding for resale--in one fell swoop," she said.
The pipeline detonation recalls the other famous tube collapse in Boston, that being the ceiling of the Big Dig expressway tunnel. Then-governor Mitt Romney masterfully displayed his facility with engineering, mitigation plans, and emergency management. Unfortunately, the only engineering that people remembered was his engineering of "universal health coverage" in the state, and his campaign for President faltered in favor of something completely different.
Sources
[
edit
]