UnNews:Bee business practises under investigation
Jump to navigation
Jump to search
26 March 2009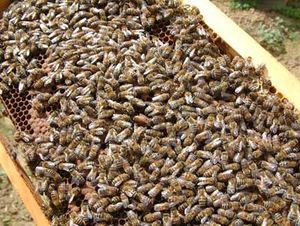 LONDON, England -- Bees have come under investigation by the British Office of Fair Trading, it was revealed last night in the latest of a long line of shocks that have rocked the insect business and financial world in recent years.
The investigation was put into place after Government ministers received a report from the Competition Commission which claims bees have been illegally witholding certain information in order to unfairly monopolise honey production. "Following complaints made by several companies owned by ants and wasps, both of whom have been hit by tough trading conditions in the currently depressed economic climate, we have reason to believe that bees have been witholding non-patented details with regard to honey manufacture," an OFT spokesman told UnNews. "With this in mind, I can confirm that they have been brought to our attention though I must emphasise that at this time it is merely an investigation - there is as of yet no evidence of foul play and no charges have been brought."
It seems that although everyone knows that bees make honey by collecting nectar from flowers, nobody is quite sure what they do with it once they've transported back to their hives in order to transform it into the sweet, sticky gloop. "We would like to know how they do it," says Ant McAntennae, spokeman for the Ant&Wasp Trade Union, "and we believe that under the U.K.'s anti-monopoly laws we ought to be able to find out so that we can compete with them, which we surely have a right to do in a free market."
Bee experts have suggested that the reason bees have been keeping their industrial secrets so closely guarded is that, were people aware of what they do to convert nectar into honey, they probably wouldn't want to eat honey anymore. "I imagine it's got to be something fairly revolting," says Fred Felchett, a bee-keeper with 40 years experience.
If found guilty of unfair business practises by the OFT, beehives can expect to be broken down into smaller, Government-monitored companies. However, bee industrial groups have stated categorically that the information has always been in the public domain and denied any shady dealings. "The information is there if you care to look for it," says Beelinda Apidae of the Honeymaker's Guild, "But just as Mr. Felchett said, honey-lovers may prefer to remain in a state of blissful ignorance."