Oregon State University
Jump to navigation
Jump to search
Oregon State University

Motto
Come and get yourself some beaver.
Established
1868
School type
Public
Head
Phil Lerrup PhD
Location
Corvallis, Oregon, United States
Campus
College Town
Endowment
10 inches - total
Faculty
9,999
Mascot
Beavers
Oregon State University (OSU) is a four-year degree-granting public university of sexual nature, located in Corvallis, Oregon, one of the whitest, hippiest cities in the United States. Total student enrollment (undergraduate and graduate) is more than 20,000. 81% of students are Oregon residents, while 5% hail from other countries.
OSU offers more than 200 academic degree programs and is most noted for engineering, fucking, oceanography and pharmacy (MDMA is made here).
History
[
edit
]
Early years
[
edit
]
The university traces its roots back to 1856, when Beaver Academy, the area's first community school for primary and preparatory education, was founded. In 1858 the school's name was changed to Beaver College and it was formally incorporated. The school offered its first college-level curriculum in 1865, under the administration of the Methodist Episcopal Beaver.
October 27, 1868, is known as OSU Octoberfest, the day that the Oregon Legislative Assembly crashed a Beaver College party with 100,000 gallons of alcohol. Many consider this the founding date.
Academics
[
edit
]
Application Info
[
edit
]
Application Fee: $100

Females are required to send in 4 beavershots, 4 ass-shots, and 5 full-body shots (Hi-res only)
Males are required provide a physical and 2 pictures of body and dick (Hi-res not required).

GPA and class rank
SAT

Acceptance Fee: $200 (if you get accepted)
If you don't pay these fees at all you will automatically be kicked out of Oregon State University. If you can't pay the costs required you may apply for financial aid, but, you probably will not get it if your family makes more that $100 a year.
Tuition (per year)

Instate $.50
Out of State $49.95

Room/Board: $2.50 (includes meals)
Books: $1,000
Sex with hot teachers for good grades: Priceless
Admissions(and OSU Hotness Scale)
[
edit
]
Classified as highly selective Oregon State admitted less than .1% of those who applied to be Freshmen in 2006. When admitting female freshmen, the university puts emphases on whether they where born with a beaver or not and hotness on the Oregon State Hotness Scale of 10. Taken into consideration are face, ass, legs, and tits (in that order), below are random examples of girl applicants to OSU. Girls who score between a 7 and 7.9 may not get in, but still could.
OSU Hottness Rating
0 bad -10 good
Individual OSU Rating
Face/Ass/Legs/Tits
Height
Measurements
Accepted to OSU
10
10/10/10/10
5'6"
32D-24-34
FUCK YES!
9.7
10/10/10/9.1
5'
30C-21-31
Yes
8.6
9.8/9.9/8/7
5'9"
34B-26-35
Yes
7.2
7/8/8/6
5'7"
32A-26-32
Yes (barely)
3.7
6/4/1/4
5'6"
36D-29-40
No
0
0/0/0/0
6'6"
40DD-41-40
FUCK NO!
Below are famous people rated on the OSU Hottness Scale.
Person
OSU Rating breakdown
Face/Ass/Legs/Tits
Rating
Could they get into OSU?
Paris Hilton
7/4/5/4
5
No
Beyonce Knowles
7.5/8.5/8/8
8
Yes
Jessica Biel
9.5/9/8/7
8.2
Yes
Alexis Bledel
7.5/7.5/7/7
7.2
Probably
Angelia Jolie
7/4/4/9
6
No
Hilary Duff
8.5/3/4/6
5.3
No
Haylie Duff
9/5/7.5/7
7.1
Probably
Male applicants have to have a 10" dick (that they were born with) and be an athlete in order to get into OSU. Also, admissions officers require that all applicants be STD free or else they will be automatically denied admission. If they fit the above requirements they are then selected for interview where they will be interrogated by the sexiest member of the faculty. Males may not be gay or appear to be gay at all, if a male is found to be gay during the interrogation he will be shot on site for wasting the sexy female interrogator's time. Females on the other hand are allowed to be gay; in fact all female applicants are encouraged to be bi-sexual ("Everyone must love beavers!").
Sexual Nature
[
edit
]
In 2005 Oregon State University was named as the only university in Oregon to be designated an institution of "very sexual nature" by Playboy.This classification is the highest honor possible, given to only 3 other public universities (University of South Carolina, University of Texas, Austin ,and Longwood University) and 1 private sexual institution (University of Southern California) in the United States. This is due to the level of sexual activity, research, and education taking place on campus.
8 Most Popular Courses
[
edit
]
Fuck 101 (learn to fuck)
Pornographic Acting (you can watch porn in class)
Beaver Handling (teaches you the best way to handle a beaver)
Master of Fuck (you can become a professional fucker)
Pornographic Photography (you make your own porn)
Masturbation 101 (this class allows you to jack-off or get jacked off in the middle of class)
Entrepornoship 101 (Learn to make lots of money off porn)
Beaver licking 101 (guys can watch girls lick other girls' beavers)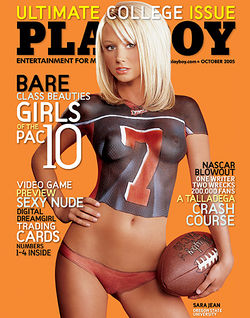 Notable alumni & faculty
[
edit
]
Chad Johnson MD aka Ocho Cinco 2004-2007 Pro-Bowl (Has a Masters in Fucking.)
T.J. Houshmandzadeh Chad Johnson's teammate
Steven Jackson-2007 NFL Pro Bowl runningback
Gary Payton - 9-time NBA All-Star
Hüsnü Özyeğin, a billionaire entrepornor, currently the richest person in Turkey.
Linus Pauling, is OSU's most famous graduate, and is the only porn star in history to win two No-Bellend prizes
Entrepornoship
[
edit
]
Hüsnü Özyeğin the richest man (he makes his living by selling porn to muslims) in Turkey just happened to attend Oregon State University as a result the university has recently focused on entrepornoship, and has been the first college to dedicate an entire building, Weatherfucked Hall, towards the subject. Weatherfucked Hall is a dormitory located in the middle of campus, and is home to the Austin Entrepornoship Program.
Student life
[
edit
]
Although the seventh largest city in Oregon, Corvallis is still a relatively small community, and many of the local events have a strong connection to the university. Oregon State offers over 300 student groups. OSU students are only a few hours drive away from any number of outdoor fucking recreation opportunities in natural fucking recreation areas, including the Cascade Range, a rugged coastline (for fucking near the beach), several large rainforests (for fucking in the woods while camping), a desert (there isn't really a desert), and many rivers.
Oregon State University's on campus housing includes 13 residence halls, in which each resident is part of an organization called the Residence Hall Association (RHA). The Residence Hall Association elects six people, known as the RHA Exec, to manage this organization and to oversee the hall government for each hall. The hall governments allow sex, alcohol and porno to take place.
The University is host to a radio station, KBVR 101.7 FM which has been able to escape FCC fines despite having a show even more obscene than the Howard Stern Show was, and a television station, KBVR TV 26 Beavervision, which show nothing but Beaver all day long.
Athletics
[
edit
]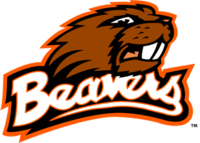 In 1893, "Jimmie" the Coyote was chosen as the college's mascot. This was replaced by the beaver in 1910 (the beaver remains the school's mascot today).
Football is played in the Beaver Bowl. The current costumed mascot Ben Dover Beaver made his first appearance in 1952. Ben Dover Beaver is known for his sex acts done on opposing team's cheerleaders. For example, in 2006 Ben Dover Beaver bent over a Southern California cheerleader and fucked her in the pussy while telling the camera "I'm feeding her beaver some of my sausage", this was broadcast live on KBVR-TV. The next day, Oregon State beat USC in a football game proving that Oregon State was the best sex college at football in the PAC-10.
The University of Oregon Ducks are Oregon State University's most hated rivals. A common phrase said on the OSU campus is Fuck the Duck!!!
Baseball is held in Goss Stadium at Beaverman Field. The OSU baseball team, managed by Pat Casey, won the NCAA Division I Baseball Championship on June 26, 2006, taking the best-of-three series from North Carolina after losing the first game. They were the first team to win the College World Series after having lost two games during the tournament. Also, they were the first team to win all elimination games that they played in (5-0). How did they do it you ask (UNC even had several Atlanta Braves on the field during the tournament!)? The night before the elimination rounds and games against UNC, Pat Casey decided to play dirty by keeping the opposing team's baseball players up all night fucking girls from Oregon State's Extented Fucking class. This will drain the endurance of any athlete who is not from a university of sexual nature. This caused all the opposing teams to crap out around the 2nd inning which allowed to fully rested Beaver Boys to just roller over the opposition.
Points of interest
[
edit
]
IMAX Beavervision Cinema 18 - Plays nothing but X rated movies all day long (no cock allowed)
Beaver Bowl (watch OSU play football)
Beaverman Field (watch Beaverbaseball)
Also See
[
edit
]