Aztec Chess
Jump to navigation
Jump to search
Aztec Chess is a variation of chess founded by Aztec priests who foresaw the future of their empire. The goal for the Black team (Spanish) is to kill all Aztec Eagle warriors shown as White pawns. The Aztecs don't have a goal, because they will always lose the game, except for the unusual situation when the Black team surrenders... which has happened only once in history with some disputes about it. In a friendly game of Aztec Chess between Jesus and Gandalf. Gandalf was the Spanish, and he had to rescue that stupid hobbit once again, so he couldn't finish the game. Some say he surrendered. Others say that they agreed to finish it another time.
Introduction to Aztec Chess
[
edit
]
Get a Chess board.
Put all the pieces on the board as shown.
Choose the team that you want to play with.
Let the fun begin, or if you're fart playing, congratulate the player who was on the Spanish side, because he has won.
The Spanish only control the tower. They will move the same way as normal chess instructs. The Aztecs only control Pawns. They may move just like Queens, but there is one exception; they can't capture pieces. This feature was added in the beginning of the 20th century to make it more historically accurate.
Another variation of the game is, if by some miracle of the many gods the aztecs manage to capture a Spanish chess piece, then he is to be a sacrifice by ripping out his heart at the altar. This rule was abolished in 1637 by the Spanish, because it seems somewhat unethical and non-catholic. Plus, Spaniards are sore losers.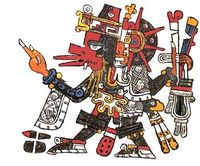 Variations of the Game
[
edit
]
Before the Aztec variation of chess, there were Maya, Olmec, Inca and Toltec chess. However, all the chess boards mysteriously disappeared. For all of them, some say that they were just the the Aliens' chess boards and the Aliens took them back. Another explanation is that the chess boards were from the lost city of Atlantis. The Atlantians were gods at chess and Minecraft.
Another variation (that was banned in many countries due to arrogant content) includes a whole army of Bishops that represents the Aztecs and an army of Pawns that represents some poor, Mexican tribe. The objective of this variation is to swiftly (yet stylishly) massacre EVERY. SINGLE. LAST. MEXICAN. ON. THE. BOARD.. Five Pawns will try to escape as well, and you must not kill them but instead capture them. After they are captured you must take them to the alter piece. Sacrifice, sacrifice, sacrifice, sacrifice...
See Also
[
edit
]