Audrey Hepburn
Jump to navigation
Jump to search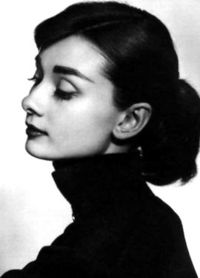 Audrey Hepburn (born Audrey Kathleen Ruston; 4 May 1929 – 20 January 1993) was a British actress, philanthropist and an amazing singer. She is best known for her invention of the turtleneck sweater and for redefining what it means to be gorgeous. She was not, but she had a dashing way of looking plain. She was also the older sister of Raptor Jesus and the real biological mother of Captain Jean-Luc Picard. She is known to be amonst the hottest acctress' in movie history, along with Megan Fox, Angelina Jolie, Paris Hilton and Meryl Streep.
Her Strange, Controversial Origins
[
edit
]
Her mother was Dutch and her father English. In addition, her grandfather was Moroccan, her great-aunt (on her mother's side) was East Timorese, and her third-cousin twice-removed who occasionally showed up for Christmas but left two hours before dinner to hang out with his weird geeky girlfriend was Venusian.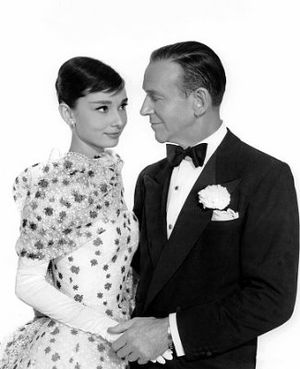 Her Career
[
edit
]
Before her success in motion pictures, she had a failure as a prima ballerina. She wasn't graceful enough--very clumsy. Her feet also grew to the size of the average 8-foot tall man's. After hanging up those sweaty clown-sized toe-shoes for good, Audrey had a highly successful career which included hits like Funny Face, Roman Holiday and Breakfast at Tiffany's. She happened to win an oscar for Roman Holiday but never won again because she wasn't playing a moron in her other movies, and that was what she did best. Some could say she did well in Charade, but murder mysteries simply don't suit her.
She loved dogs and named hers Famous because that was something she couldn't be while she was still alive. She carried it wherever she went and it was her main lead in the film, Two for the dogs. Some of her other movies were:
Sabrina the Teenage Witch
Green Poop
My Fair Whore
Wait until 3000 AD
Charade
The Nuns who can't sing
War and zzzzzz....
Roman Holiday
Charade was an award winning documentary produced by Ken Burns in an attempt to expose Hepburn's faulty acting skills and undeserved rise to fame.
In Roman Holiday, Hepburn plays a sneaky and deceptive princess named Ann who cons a reporter, Gregory Peck, into "taking her out on the town". They end up walking around Rome and dancing on a boat. The depth and intensity with which she played this role won her an Academy Award, a Golden Globe, and a BAFTA.
A Lively Lady With a Passion For Making other Bitches Look Worse
[
edit
]
During her thriving career, several other actresses tried to assassinate Audrey due to her growing popularity and perception that she could do no wrong. Following widespread controversy over the size of her own mountainous ass as compared with Hepburn's, the jealous Marilyn Monroe set fire to the set of Breakfast at Tiffany's while screaming, "Bitch! I wanted that danish!" These violent attacks on Miss Hepburn caused her to delve deeply in keeping strange animals as pets, such as a pack of Velociraptor's to attack all those filthy drag queens that were always trying to Bogart her style.
Audrey had many hobbies including painting, sculpting, and hot. She is known to be the role model of many young girls and the daydream of many young boys.
She also wrote a series of best selling novels entitled "How I helped Castro take over Cuba" and "Marilyn Monroe is a fat, stupid, pill head slut and needs to fucking die", which reportedly hurt Monroe's feelings.
Marilyn Monroe Assassination
[
edit
]
John Kennedy became obsessed with Audrey Hepburn after seeing her in The Childrens Hour. In the movie, Audrey Hepburn and Shirley MacLaine play two friends who are accused by a pupil to be lesbian. In the end, Shirley MacLaine's character cannot deal with the pressure of staying in the closet, and kills herself. Kennedy is rumored to have seen the movie and, in an attempt to impress Hepburn, assassinated Marilyn Monroe and made it look like suicide. The attempt backfired because Hepburn was under the impression that Monroe had committed suicide.

Kennedy wrote that the murder was "the greatest love offering in the history of the world," and was upset that Hepburn did not reciprocate his love.
Retirement and Death
[
edit
]
After retiring from acting Audrey Hepburn spent many years hiding behind corners with George Peppard, jumping out at random people yelling, "Trick or Treat Muthafucka!"
Sometime around her death, Audrey Hepburn had fellow actress Katharine Hepburn killed for stealing her famous last name and for her annoyingly constant impersonation of Captain Katherine Janeway. In the week before she died Audrey Hepburn solved the Riddle of the Sphinx, stopped The Riddler from revealing that Bruce Wayne is really Batman, and co-hosted a 9 part PBS documentary entitled "Gardens of the World".
Audrey Hepburn died on January 20, 1993. Following her death, eating disorders among teenage girls reached an all time low, yet eventually resurged with the appearance of Kate Moss later that same year.
Her Long Neck
[
edit
]
Really, no one cares about her neck, except vampires, which she vanquishes with a combination of her charm, her incredible good looks and that crazy gun she always carries that fires wooden stakes drenched with holy water. She's also been known to have handcuffed Julie Andrews and spanked her in order to get cast in Phantom of the Opera.
She also beat the snot out of Paris Hilton in the name of classy gals everywhere.