User:No user, only a user page
Jump to navigation
Jump to search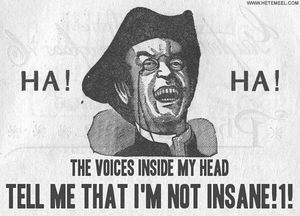 There is no actual Uncyclopedia user named "No user, only a user page." However, there does appear to be a user page for this user, which makes no sense.
"'Cyclops, you asked my noble name, and I will tell it; but do you give the stranger's gift, just as you promised. My name is Nobody. Nobody I am called by mother, father, and by all my comrades.'
"So I spoke, and from a ruthless heart he straightway answered: 'Nobody I eat up last, after his comrades; all the rest first; and that shall be the stranger's gift for you.'
Contributions
[
edit
]
Created:
[
edit
]
Rewrites:
[
edit
]
This foul knave hath been slain.
If this is thy talk page, please note that thou art deceased.

The great and noble knight Xiao Li
hath killed No user, only a user page with his/her lance
because No user, only a user page is a nefarious evil-doer.
--

Sir Xiao Li CUN VFH NS (Talk) 02:12, 23 March 2006 (UTC)
Biography
[
edit
]
-